A great white shark attacked a surfer who some have called "the luckiest man on earth".
Abe McGrath was at Main Beach off Iluka in New South Wales September 10 around 6:00 a.m.
The 35-year-old was lying on his board approximately 328 yards north of the Illuka wall when the shark shot up from underneath.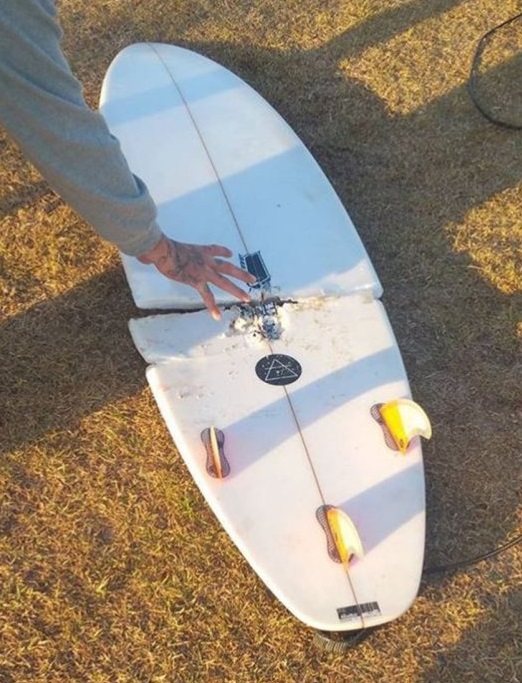 "The impact lifted him up. The shark was coming from the deep and hit (Abe's board) with its nose and opened its mouth and latched on the board," fellow surfer Bryce Cameron told The Daily Telegraph.
The force of the impact threw McGrath into the air as his surfboard was broken in half.
"He is pretty much the luckiest man on earth right now. He was lying on his board, but if he had been sitting on it he would have lost a leg." Cameron said.
He fell back into the water and with an injury to his right hip.
"We were 50m apart and it was just me and him out there," said Elijah "Hobbit" Colbey who was the only other surfer in the water at the time.
"A good wave rolled past, we were both watching it, and then I looked back and saw Abe skimming across the water splashing.
"Then I hear f**k off, f**k off and then my nickname Hobbit being called out.
"I started paddling towards him for help and then my mind clicked to it being the worst possible outcome."
The two were able to make it back to shore.
"I grabbed his two broken bits of surfboard and we looked at each other and counted our blessings that we could actually walk away," he said.
"He was very stoked to be able to walk up the beach with me … we could look back on it and be very stoked but also shaken up and in shock."
After wrapping the wound with gauze, Colbey drove McGrath to Ballina Hospital. McGrath was then transferred to Lismore Hospital.
"He needed a few stitches and to have a bit of an x-ray for his hip," Colbey said. "He got a good look at it. He said it was a 3.5m (11ft) white pointer. In the big scheme of things that is a juvenile but it is still big enough to kill."
This is the fourth shark attack bite in New South Wales for 2017.
Mitchell Collins was bitten by a suspected bronze whaler on the foot while swimming at Merimbula Main Beach January 4.
Gonzalo Mompo Fernandez was bodyboarding off Killalea State Park March 19, when he was bitten on the bum and inner thigh. The 30-year-old had minor injuries and did not seek medical treatment.
On April 2, a 46-year-old man was bitten on the left foot and calf near Samurai Point.  The unidentified man had minor lacerations.
There have been a total of 75* shark attack bites in 2017, 5 of which were fatal*; 36 were reported in the US, with 23 occurring in Florida** and one in Hawaii. Eleven occurred in Australia, one of which was fatal and one with no injury.  Five unconfirmed worldwide and not included in the total count.
All locations have been marked on the 2017 Shark Attack Bites Tracking Map.
*Two may be scavenge.    **One report may have been outside of Florida waters.
Australia Breakdown:
Western Australia: 3 Fatal: 1
Northern Territory: 0 Fatal: 0
Queensland: 5 Fatal: 0
New South Wales: 3 Fatal: 0
South Australia:  0 Fatal: 0
Victoria: 1 Fatal: 0