A great white shark bit a surfboard off the coast near Humboldt, California September 17.
The surfer identified only as Yuma, was surfing the south jetty off the coast of Humboldt when the great white bit his board and damaged his wetsuit.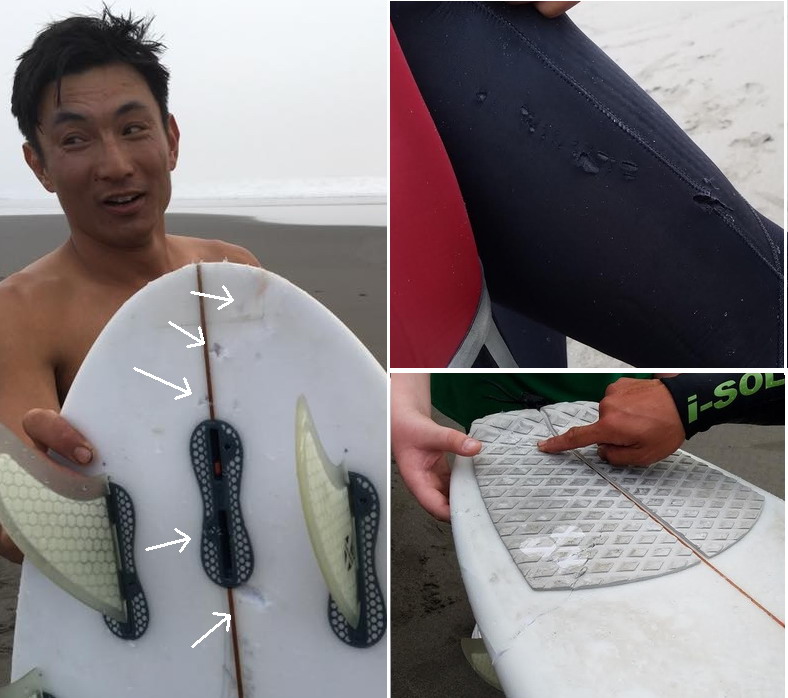 The shark left teeth marks both on Yuma's board and wetsuit. Amazingly, the surfer was unharmed during the incident.
Delia Bense-Kang, chair of the local Surfrider Foundation, said there are a lot of bait fish and seal pups in the area from September through December. The large food supply brings in great white sharks to feed.
The incident has been marked on the 2016 shark attack bites tracking map as no injury.
There have been a total of 67 shark attack bites in 2016, six of which were fatal. Of the 32 bites reported in the US, 22 occurred in Florida. In Australia, 12 bites occurred, three of which were fatal.
The last serious incident in Humboldt was in October 2013 when surfer Jay Scrivner was bitten by a great white shark.  Scrivner was bitten on his left thigh, but was able to make it back to shore. Thankfully no arteries or tendons were severed, and only 30 stitches were needed to sew up his wound.