Shark tracking group OCEARCH hosts a live Q&A on Facebook.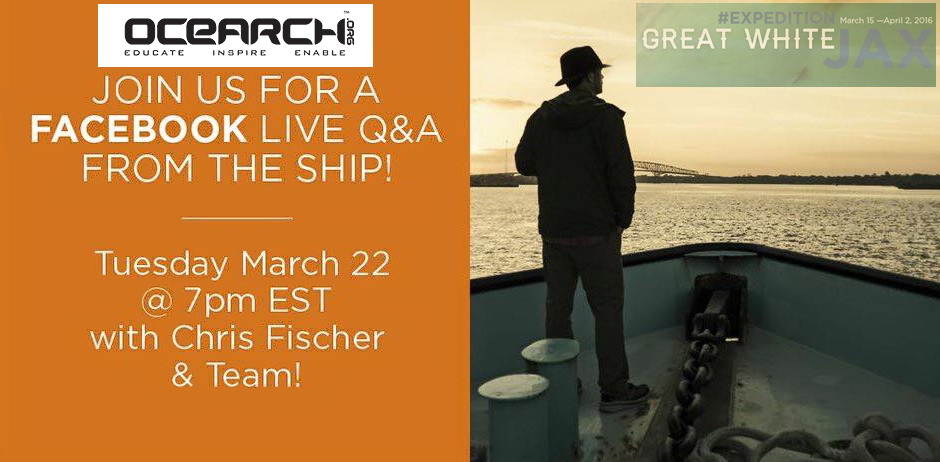 Have you ever wondered where sharks go when its cold, how deep do they dive or how many shark babies (pups) does a pregnant great white shark carry? Tonight you will have a chance to pose your shark questions directly to researchers working with OCEARCH, on an expedition to catch and tag great white sharks.
The science team is currently on board the research vessel MV OCEARCH, which is off the coast of Jacksonville Florida searching for great white sharks for #ExpeditionJAX. They recently caught a female tiger shark and tagged her for an ongoing research project with the South Carolina Department of Natural Resources.

The shark surprised expedition leader Chris Fischer, who only expected to see white sharks in the 64 ½ degree water.
The expedition features several well know scientist including Greg Skomal, Ph.D from the Massachusetts Division of Marine Fisheries, Associate Vice President of Mote Marine Laboratory Ph.D Robert Hueter, Heather Marshall, Ph. D. Postdoctoral Research Fellow Mote Marine Laboratory and Simon R. Thorrold, Ph. D. Senior Scientist of  the Woods Hole Oceanographic Institution. A total of 11 researchers from 10 institutions are currently on board.
While you are waiting for the event to take place you can live track sharks at OCEARCH.org or watch some of their past expedition coverage on YouTube. Then head to Facebook https://www.facebook.com/OCEARCH/ and while you are there be sure to like Tracking Sharks.
OCEARCH expedition update

Posted by OCEARCH on Tuesday, March 22, 2016