A scuba diver died April 12 after what may have been a shark attack in waters off KwaZulu-Natal, South Africa.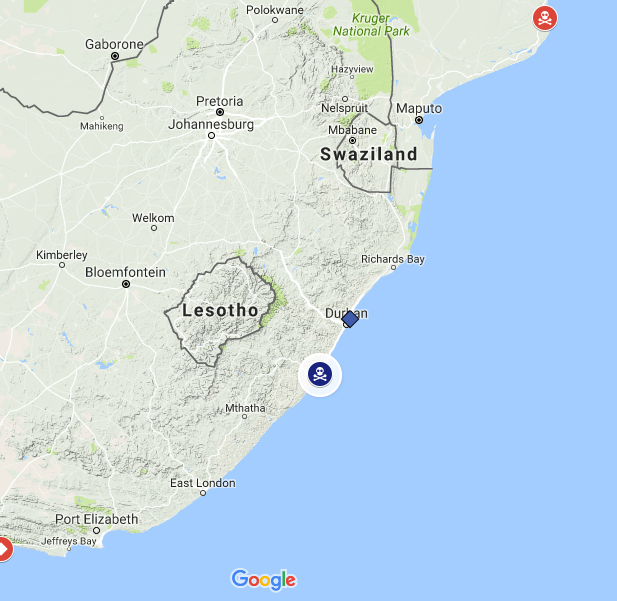 Leopold Mairhuber was diving with a charter group near Shelly Beach and Port Edward, but when the group surfaced, divers realized one man had disappeared.
The 68-year old diver was a master instructor with over 2,000 dives according to African Dive Adventures (ADA) with whom he had been diving.
According to the group, Mr. Mairhuber was with a class of divers from Dr. Erich Ritter's Shark School and had been diving with the charter group for just over a week.
The class set off to dive the Protea Banks to look at rag tooth sharks. According to ADA, the surface conditions were calm, the in-water visibility was low which may have been due to an uncharacteristically slack current.  Once the dive master noticed a diver was missing, the dive group began their ascent and the skipper notified the National Sea Rescue Institute and Police Search Rescue (NSRI).
Private boats in the vicinity were notified of the missing diver and began searching the area.
The NSRI and Police Search Rescue were contacted at 1:45 p.m. and mobilized search vehicles.
"The NSRI Shelly Beach sea rescue craft Caltex Challenger and Spirit of Dawn, the NSRI Port Edward sea rescue craft Wild Coast Sun Rescuer, and a Police Search and Rescue boat launched to join a search operation already underway by multiple private boats and by charter boats, and on arrival on the scene a coordinated search, assisted also by the Transnet National Ports Authority (TNPA), MRCC (Maritime Rescue Coordination Centre), NSRI Durban and Telkom Maritime Radio Services, continued," according to a report from NSRI.
"An extensive drift pattern and sweeping line search operation was conducted utilising the 3 sea rescue craft, the Police Search and Rescue boat, private boats, private fishing boats, and charter boats and Police divers conducted a scuba dive search.
"During the search the remains of the body of the man, believed to have been bitten by a shark, were located by crew of a private fishing boat, and the remains of the body were recovered from the water onto a sea rescue craft and brought to shore," a NSRI news release stated.
"According to sources with knowledge of the search' only the remains of the man's legs and wetsuit were recovered by the crew of a fishing boat. The bite pattern in the wetsuit was similar to that of a tiger shark," The Times Live reported.
Mike Anderson-Reid of the KwaZulu-Natal Sharks board, also quoted by The Times Live, said the difference between a shark attack and a scavenging event would be key to understanding what happened beneath the water.
A pathologist will examine the remains. While evidence points to the diver having been bitten by a shark, it is possible he may have died while diving and his body scavenged by a shark.
"The story that he was a lost diver drifting at sea and got eaten by sharks is just a really sick story fabricated by people trying to damage the diving Industry on the South Coast and find excuses for killing sharks. It is unlikely that Leo was a lost diver in such mild sea conditions; he would have easily been spotted by one of the several boats on Protea on this particular day. It is believed that he most likely passed away due to medical difficulties. His lifeless body did attract sharks but is important to know there is no proof that sharks killed him.  It is most likely a case of posthumous scavenging. Also, important to know that, unlike most people believe, this was NOT a Baited Dive. The investigation is still ongoing and we will post more information as soon we have it," said Beulah Mauz, co-owner of African Dive Adventures, in a Facebook post. 
There have been a total of 26 shark attack bites in 2017, 2 of which were fatal*; 11 were reported in the US, all 11 occurring in Florida. Six occurred in Australia, none of which was fatal. One with no injury and zero suspected attack bite.
All locations have been marked on the 2017 shark attack bites tracking map.
*this event may be a scavenge.