*****Updated 7/6/14****** video of the incident below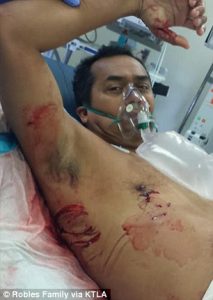 A Steven Robles 40, was swimming near the Manhattan Beach Pier this morning when he was bitten by a seven foot white shark. This is not just a straight out shark bite.
According to The LA Times, the shark was caught by a fisherman 40 minutes before the bite took place. Fisherman and swimmers in known shark waters does not make for happy scenarios.
Aram Ozen who was surfing near the scene said the man was with a group swimming 50 or 60 feet from the shore when the incident took place. He believed the victim was having issues when he heard people yelling "White, white" in reference to a Great White.
He told the times "It was a scary scream," Ozen said. "It was kind of freaky. There was a lot people screaming back to shore." surfers paddled out to help the victim who had blood on his right rib, but is in stable condition.
Lt. Ryan Small of the Manhattan Beach Police said firefighters and local police aided an ocean rescue with LA County lifeguards. He would not confirm if the incident as a shark attack.
Click to see all  2014 shark attacks and bites mapped out.
Below is a video from the pier.

Is it me or do the fisherman seem fairly callous? Should they have released the shark when hey saw the swimmers? If they knew it was a great white, should they have released it immediately since it's illegal to catch? Share your thoughts in the comments.