A teenager is recovering from a shark bite in Orange Beach, Alabama.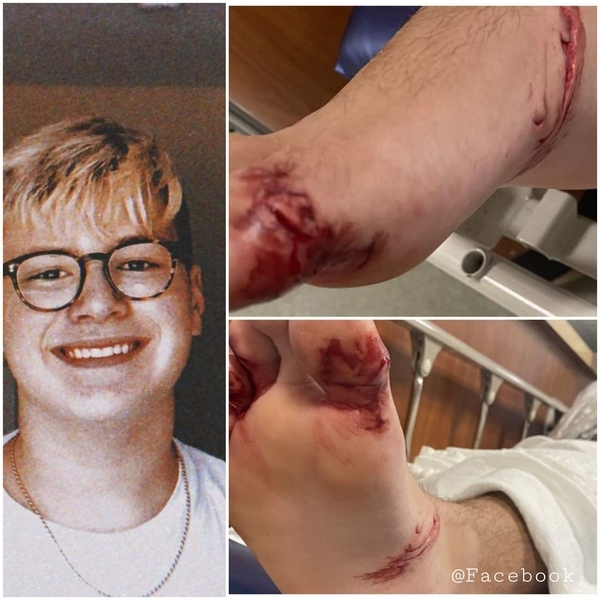 Chilly Chilton and his two sons, Maximus and Chase, were vacationing in Orange beach July 31.
One of their favorite past times is swimming out to the sandbar, a shallow area where they could play, swim and dive for shells. The three made it safely out to the bar and were enjoying the best day of their beach vacation.
"We were making plans for tomorrow to return with goggles, so that we could dive for shells and sand dollars," Chilly said on Facebook.
Out of no where the waves began to fill with large 2- to 3-foot long fish.
"It felt weird to us, so we all agreed to get off the sandbar and head back to the beach."
The three began to swim the 80 to 100 yards back to the sand with Maximus in the lead. They had just gotten off the sandbar when Max said something grabbed his foot.
Chilton instinctively stepped behind Maximus and looked into the water.
"…as I looked back [I] saw the very thing you never want to see…it was a large shark. It was there and then it wasn't." Chilly said.
Chilly comforted his son by saying it wasn't a shark and that his foot was not bleeding. The trio headed in with Chilly swimming behind Max, just in case the estimated 4- to 5-foot shark came back.
Once the group was back on the beach someone called 911 and several Good Samaritans rallied to carry Max up the beach. Before they had the chance, beach patrol showed up and then paramedics.
Max was taken to South Baldwin Medical Center by ambulance where he received more than 25 stitches.
Through the ordeal Max stayed strong. Chase said he felt like God cleared the way as if they made it from the sandbar to the beach in seconds.
Chilly said that they understood the risk and that sharks are in all oceans. He also stated that bacteria currently found in the Gulf could be far more dangerous than the shark bite.
He also stated a concern that after Max's bite was confirmed to be from a shark, no other other beachgoers were warned. Chilly, who is an executive pastor at Faith Church, has asked for prayers that Max heals well and no infection or bacteria sets in the wound.
Shark attacks at Orange Beach are quite rare. The last bite was reported in 2014, when Laura Harylkoff was bitten while wading. The 50-year-old had lacerations to her foot an ankle.
A great white shark was filmed about 25 miles off the beach by divers May 23, 2020.
The approximate location has been marked on the 2020 Shark Attack map.