Video showing the moment a blacktip shark nearly bites a snorkeler's fins has been shared on Instagram.
David Diez was filming his girlfriend, Helen Palacios, who was snorkeling off the coast of West Palm Beach March 22 when he caught the interaction with his drone.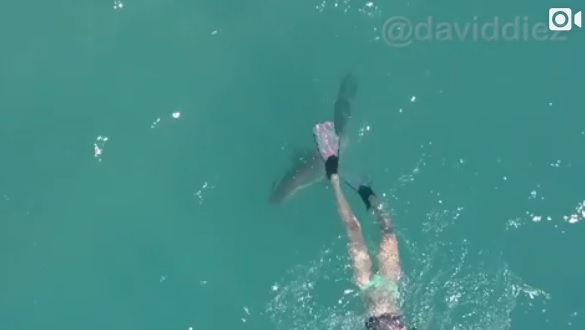 Palacios was blissfully unaware that a small blacktip shark was eying her fins as a possible meal.
"What I think happened was the shark confused her fins for a fish . . . ," Diez posted on Instagram.
The shark shot up from the murky water and appears to be zeroed in on one of the Palacios' fins.
However, just as it got close enough to take a bite, the shark veered away.
"As it realized it was a human, it quickly backed off. The poor water visibility confused the shark. This is how most shark attacks happen in Florida, especially this time of year when sharks like the blacktip are migrating through the Florida coast following schools of fish. Sharks aren't man eaters; they're just carnivores who make mistakes like we do. Helen and I will continue to explore our beautiful ocean," Diez said.
Diez is correct about the theory behind shark attacks and bites in Florida.
The state is known as the shark attack capital of the world, yet the majority of injuries caused by sharks are minor.  Most off the bites occur off the east coast of the state near New Smyrna Beach, a murky water area popular with surfers.
In 2016, there were 34 reported shark attack bites in Florida. So far, 2017 has seen four reported in the state.

Diez is not the first person to catch a shark investigation via a drone. Last month the New South Wales government's Department of Primary Industry Fisheries shared a drone video to YouTube.  In the video a juvenile great white shark swims near a floating surfer, before changing course and rapidly swimming off.
Another drone was used to fish and catch a shark. The operators attached a line to their drone and then used its camera to search for a fish. When they spotted the shark, they dropped the bait and caught the shark.