Do you want to help OCEARCH with Great White Shark research?  Now you can
OCEARCH is a nonprofit organization with a passion for sharing open sourced data with the public.  The group is famous for tagging great white sharks, including the Twitter stars Shark Chessie, Mary Lee and  Katharine.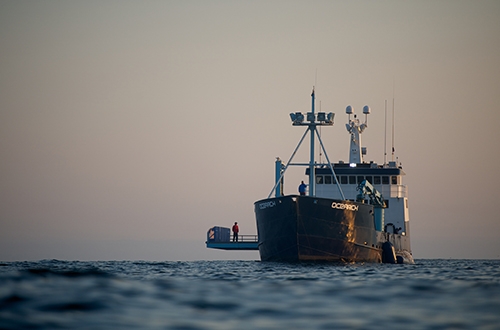 The group uses a custom ship, the M/V OCEARCH, which features a shark lift.
As the name implies, the lift actually picks the shark out of the water. While the shark is on the lift, a team of scientists goes to work. They take measurements, tissue and blood samples, even ultrasounds have been performed.  In 15 minutes the shark is released back into the water with a satellite tag so the shark's travels can be documented live on the OCEARCH website and app.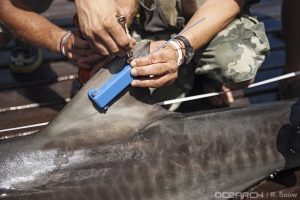 This year OCEARCH is inviting the public to be a part of its 25th expedition.
The team is heading to the North Atlantic Ocean to tag juvenile great white sharks.  The area is thought to be part of a juvenile white shark nursery.  According to crowdfunder Kickstarter, "the data will build on the ongoing research and previous findings from Great White Sharks Mary Lee, Lydia, Katharine, Betsy and Genie; and will allow us to complete the sample size necessary to draft the first scientific findings for the North Atlantic White Shark."
You can help support the program by backing OCEARCH on Kickstarter.
Not only will you be helping with shark research, but you will also receive rewards.  While every donation is appreciated, the rewards start at $10, which includes a sticker postcard; $22 gets you a Kickstarter exclusive T-shirt, $48 comes with an exclusive Shark Pinger hoodie, $50 nabs you daily text messages from expedition leader Chris Fischer,  and for $60, a hat signed by Mr. Fischer and a sticker.
Once you hit $100, the group will add you or your company's name to the New York Expedition website and includes text message updates. One of my favorite rewards is for a $200 pledge, which includes a classroom Skype session with Chris Fischer, 40 stickers and an educational shark poster for a classroom. There is nothing more rewarding than helping educate the younger generation.
Speaking of education, a $1,000 pledge will sponsor a live stream of a shark tagging.  For $2,000 you can sponsor a shark satellite tag, and your name will be listed on the sharks profile on the Global Tracker.
All data gathered during the expedition will be open sourced so scientists around the world will have access to the data.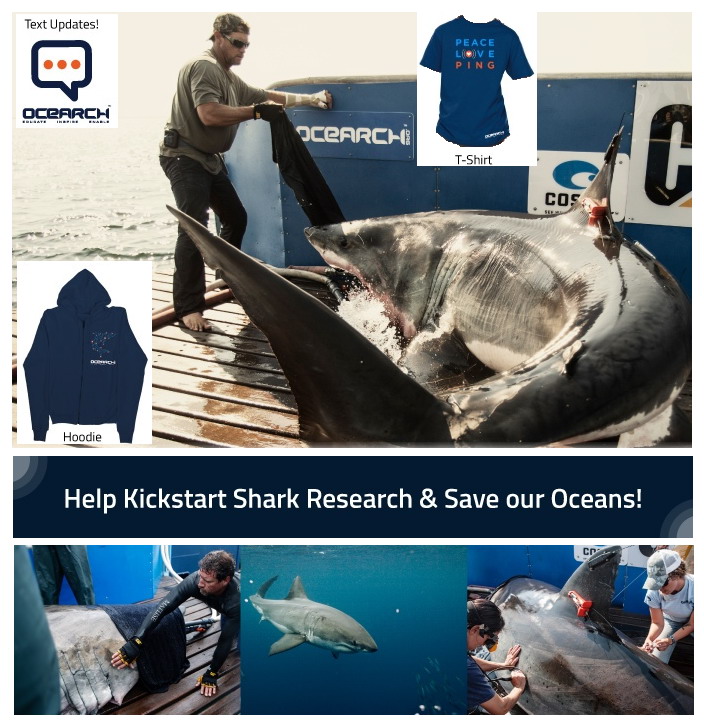 There are only 15 days left to back the project.  To see all the rewards and support Great White Research with OCEARCH, head over to Kickstarter. For more info on OCEARCH, visit OCEARCH.org.
UPDATE: 10/1/16 OCEARCH apologized for the delay in shipping rewards. They confirmed that all rewards are on order and will ship ASAP.  Apparently a large amount of backers did not fill out their surveys which were needed to place the orders.