A woman has been bitten by a nurse shark in Florida.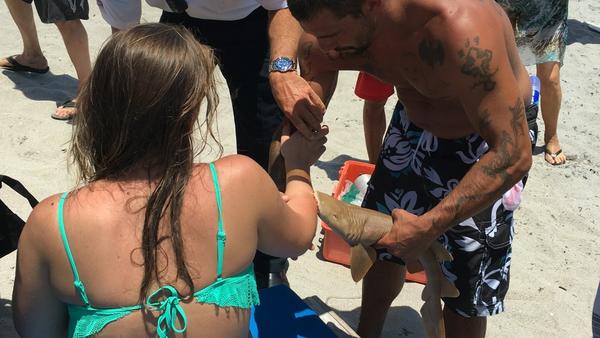 The unidentified female was bitten near the south end of Red Reef Park in Boca Raton.
Rescuers arrived on scene at 1:30 pm to find the 2 foot dead shark was still attached to the 23-year-olds arm. They were able to splint the girls arm and immobilize it and the shark, before transporting them to Boca Regional Hospital in stable condition.
Medical personal were able to remove the shark from the girls arm and she is expected to be released later this evening.
Nate Pachter was snorkeling with his cousin and saw the girl with a group of people molesting the shark. He told the Sun Sentinel the group was "holding the shark by its tail. They were messing with it."
The 11-year-old knows it's best not to grab sharks. He believes it was the groups fault for provoking the shark. He said "Sharks are like the most humane thing ever, so it wouldn't bite them if they hadn't been messing with it."
Nurse sharks are known to be docile and will normally only bite when provoked or threatened.  It's best to avoid any shark while in the water and avoid any temptation to hold the shark.
Sharks could mistake physical interaction as a threat and bite in defense.
This is the twenty-fifth shark attack bite of 2016 three of which were fatal.  There have been a total of seven shark attack bites in the United States with five of those occurring in Florida.