A 13-year-old has been bitten by a shark in Florida on Sunday September 18 at Indian Harbour Beach.
Joshua Michael Stuart had just jumped off his surfboard and into the chest deep water off Bicentennial Park around 3:30 p.m. when he was bitten on the left foot.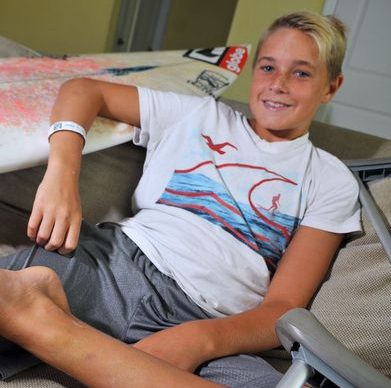 "I took a wave and I jumped off of my board. That's when I felt something hit my leg. I looked down and my foot was just gushing blood," he told Florida Today.
He made it back to shore, and his mother took him to Holmes Regional Medical Center in Melbourne where he received 6 staples in his foot..
Joshua isn't going to let the shark bite scare him out of the water; he still plans on becoming a professional surfer.
This is the fourth bite that occurred in Florida on Sunday.  Three others occurred just south of New Smyrna Beach.
The first happened around 10:45 a.m. when a 43-year-old man was bitten on the leg. The second occurred 15 minutes later when surfer Chucky Luciano was bitten on the hand. As he paddled back to shore, he was bitten on his other hand.
A third bite occurred around 1 p.m., when a 16-year-old was bitten on the thigh. The teenager declined medical treatment for the wound.
Large schools of bait fish have been known to frequent the area, which draws sharks to the rough, low visibility water.  Shark attack bites are common in the area when sharks confuse humans for fish.
There have been a total of 68 shark attack bites in 2016. Six of which were fatal; 33 were reported in the US, with 23 occurring in Florida. Twelve have occurred in Australia, three of which were fatal.
All locations have been marked on the 2016 shark attack bites tracking map.