The first great white shark caught in a shark net has been released successfully. The 10-foot (3.2m) female was found off Sharpes Beach in Ballina December 10 at 11:30 a.m. local time. Department of Primary Industry researchers Dr. Paul Butcher and Matt Broadhurst tagged and released the shark. The shark was caught in one of the five new shark nets deployed in NSW.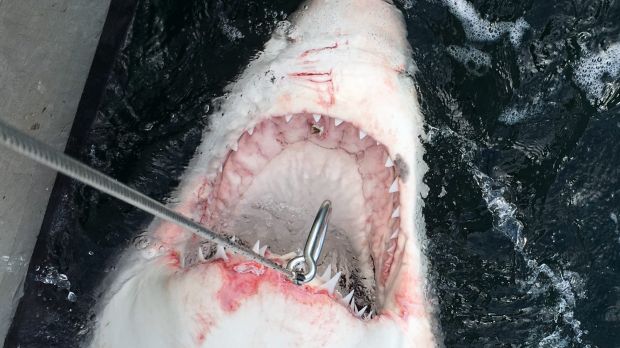 Another four great whites were also captured on smart drumlines deployed last week. Two great whites, an 8-foot (2.5m) and a 7 1/2-foot (2.3m), were caught off Evans Head. A nearly 10-foot (3m) white was caught off Lennox Head and a nearly 9-foot (2.7m) great white was caught off South Ballina. All sharks were reported to be released alive and were implanted with acoustic trackers.
Around 25 smart drumlines have been deployed off the New South Wales coast. Another 75 will be deployed in the next few months. Smart drumlines are designed to send electronic transmissions when a shark or other marine creature is hooked. Once a signal is received, personnel can be alerted to check the line. A faster response can make the difference between life and death for the fish or marine mammal attached to the line.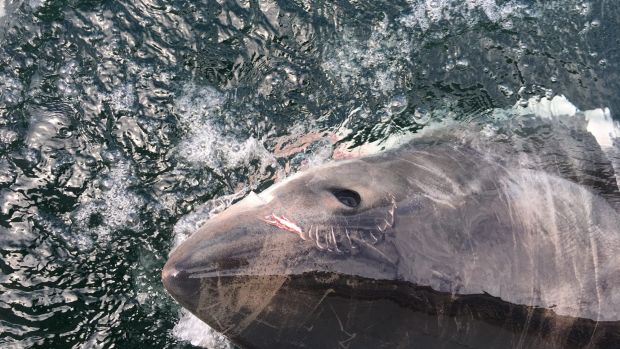 The shark tracking acoustic tags will also be beneficial to researchers and the general public. The tags send out pulses which can be picked up by receiving listening stations.
Earlier this month Minister for Primary Industries Niall Blair announced the implementation of the 20th VGR listening station.
"Just over a year ago, we said we would deliver 20 listening stations and now we have a line of protection right along the NSW coastline," Blair said.
"We have 14 VR4Gs operating north of Sydney, one at Bondi, and five on the South Coast. This technology is one component of the NSW Government's suite of shark attack mitigation measures."
The one major flaw with the system is that it requires sharks swimming within 1640 feet (500m) to be tagged with an acoustic transmitter.
According to a press release, "In the past 12 months, there have been 114 white sharks and 88 bull sharks tagged by either NSW Department of Primary Industries or CSIRO that will now register when they swim near the VR4G listening station." Sharks that have not been tagged will not be picked up by the listening stations.