A Great white shark attacked a kayak off the California Coast near Cannery Row.
Brian Correiar had just paddled back from Pacific Grove on March 18, and was about to end his "great paddle" when a shark showed up around 4:30 p.m.
Correiar was around 100 yards off shore on the end of San Barlos Beach in Monterey Bay when he was thrown out of his kayak by a great white shark.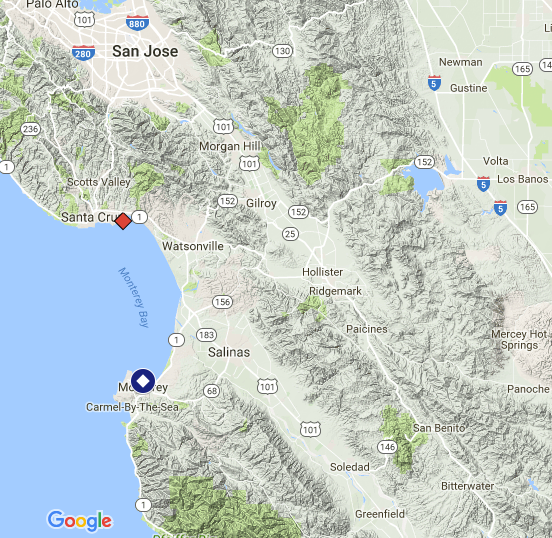 "Suddenly, I heard a loud Bang as my kayak and I flew into the air. I landed outside my boat; look back to it and to my horror saw a large great white shark no more than three feet away had my kayak in its mouth. I could clearly see its 2-inch teeth and its black eye that looked lifeless." He wrote on Diver.net.
Correiar said he started swimming towards shore and yelling "No God No" as he focused on survival.

"Don't splash, don't let your legs hang down, keep your eyes on the shark and swim away, don't act like a panicked seal. After Five minutes, maybe five years – it was hard to tell; I pulled out my Nautilus Lifeline and called in a mayday to the coast guard." He wrote.
He was having difficulties relating his emergency to the Coast Guard and he began waving to a small sailboat.
"…the shark was using my boat as a chew toy. I saw it spin with the boat at least three times. It started pushing the boat towards me and then left the boat and headed for me. Suddenly it dove. I put my face in the water to see if it was under me, but I couldn't see anything." he wrote.
Naval Postgraduate School meteorology doctoral student Lt. Cmdr. Kyle Franklin was at the helm of the sail boat along with his family who he was taking for their first sail. He saw Correiar's arm waving and headed to assist the kayaker.
Correiar looked up and saw the boat approaching, but had been in the cold water for around 20 minutes and his bare feet were numb. Unable to get into the boat, he asked the occupants to call 911 and request assistance.
According to the NPS website Both Franklin and his wife saw the kayak being pushed by something and then saw the dorsal fin break the water.  They quickly dialed 911 before heading to help Correiar.
The Coast Guard had received the distress call and quickly dispatched a vessel which arrived on scene to find Correiar hanging on the side of the sail boat. They were able to assist Correiar onboard the 29-ft Response Boat and were even able to recover his kayak and other gear.
"According to them [Franklin and his wife], the shark was as big as my boat. I have a 14-ft kayak. Bite marks show that it had the whole girth of the boat in its mouth. My boat is covered with bite marks from end to end with multiple punctures. People told me that they could see the shark slapping the surface of the water with its fins as it mauled my boat." Correiar wrote.
In July of 2016, Mark Davis had his boat bitten by a 14 to 15 great white while in the Monterey Bay.
There have been a total of 18 shark attack bites in 2017, one of which was fatal; 5 were reported in the US, all of which occurred in Florida.  Five have been reported in Australia, none of which were fatal.
All locations have been marked on the 2017 shark attack bites tracking map.
Added video 05/29/17