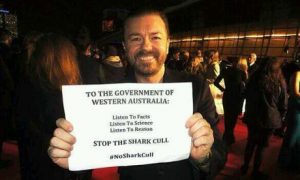 Hollywood star Ricky Gervais has lent his considerable Twitter celebrity to the campaign against Western Australia's controversial shark kill policy.
Gervais, the creator of the smash-hit comedy The Office, appeared on social media holding up a sign decrying the WA government plans to catch and kill any shark 3m or over that comes within 1km of a Perth beach.
Gervais was one of several UK celebrities who gave their support to the campaign while appearing at the British National Television Awards overnight.
The Twitter initiative, under the hashtag #nosharkcull, was the brainchild of TV producer Gemma Care, who also pictured Olympic diver Tom Daley, Olympic swimmer Rebecca Adlington, comedians Alan Carr and Keith Lemon, and reality TV personality Mark Wright with the sign.
It read: "To the government of Western Australia – Listen to Facts, Listen to Science, Listen to Reason – Stop the Shark Cull."
Care said she had received "hugely appreciated celeb support for #NoSharkCull Campaign!"
The latest celebrity backing for the backlash against the shark kill policy follows contributions from Sir Richard Branson, who tweeted that the policy "should be condemned around the world".
Check out our friends at Support our sharks to see what you can do to help. http://www.supportoursharks.com/en/conservation/sos_campaigns/stop_the_cull_2012.htm