It is a sad day for whale sharks across the globe. We start off with a whale shark that was killed when it was hit by a ship in Jayapura waters off Papua, Indonesia. The 13 foot (4m) shark was hit by the ship this morning.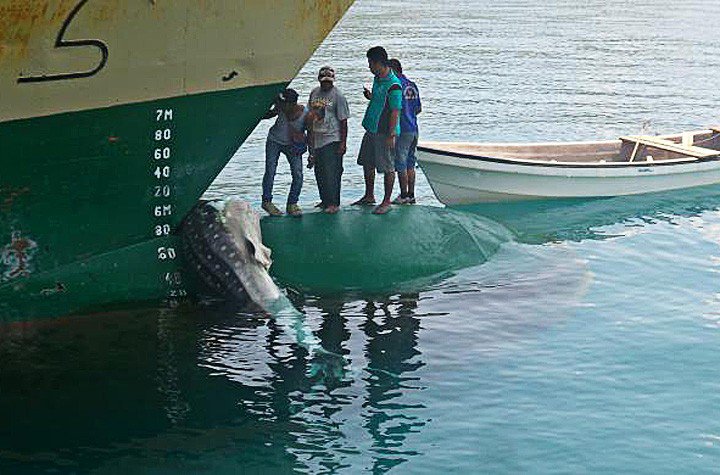 The captain apparently could not avoid hitting the shark and it appears to have succumbed to it's injuries fairly quickly. Local authorities worked with the ship's captain to dispose of the sharks body in deep water.
The police chief said that there have been two other boat whale shark collisions in the last three years.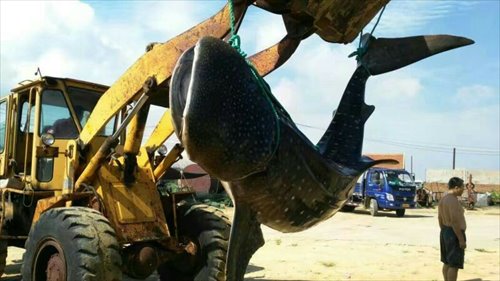 The next sad story comes from China. On August 23 a dead whale shark was found in a fisherman's net off the coast off the Shandong Province. Reports suggest the shark may have been ill as whale sharks are not commonly seen in the area. The body was transferred to a local aquarium for necropsy.
There have been several issues with whale shark deaths in China. Earlier this year a whale shark was photographed hanging in a fish market. The shark appeared to have been killed and sold for it's meat.
The final sad story comes from Ambon, in the east of Indonesia. There a juvenile whale shark was caught by fishermen. The small shark was pulled to shore, where several people climbed on its back and posed for photos.

But in a happy ending, a Russian tourist who had been diving in the area offered to pay for the release of the shark. According to a video posted on YouTube, a price of $75 USD was agreed upon and the shark was released.
Whale sharks were recently added to the IUCN Red List of Threatened Species. The sharks were listed as endangered as their numbers have halved over the last 75 years.