The second shark bite of 2017 for New Smyrna Beach, Florida reported on April 4.
Melanie Lawson was in four feet (1.2m) of water around 1 p.m. near the Esther Street Beachfront Park when she was hit hard on the side and knocked into the water.
The 51-year-old woman from Georgia was bitten on her thigh by a five foot hammerhead shark.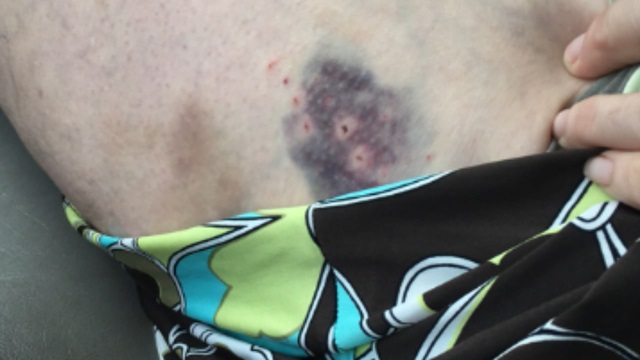 The shark had left bruises and part of its tooth in Lawsons leg, who was taken to a local hospital for treatment.
She said she will go back into the water, but it will take some time to rebuild her confidence.
This is the second bite reported in the New Smyrna Beach area in 2017.
In March of this year, Robert Nesbit was surfing around 30 to 40 yards (27 to 37m) off shore when he was bitten.
The 58-year-old had minor injuries to his foot.
New Smyrna Beach is a hot spot for shark attack bites, but the majority of shark-human interactions have not been life threatening, with several instances of torn tendons and Achilles heels.
While the east coast of Florida has the highest number of shark attack bites, the west side of the state recently had an incident that made national news.
On Sunday, Caitlyn Taylor was bitten by a shark while swimming with friends on the second sandbar off the Destin shore.
The 17-year-old had to punch the shark as it bit her legs and ended up with around 80 stitches. Apparently, the softball player's strong muscles prevented the shark's teeth from tearing any arteries.
There have been a total of 21 shark attack bites in 2017, 1 of which was fatal; 7 were reported in the US, all of which occurred in Florida.  Six have been reported in Australia, none of which were fatal.
All locations have been marked on the 2017 shark attack bites tracking map.
Updated: 04/11/17