A spearfisherman was attacked by a mako shark off the coast of New Zealand.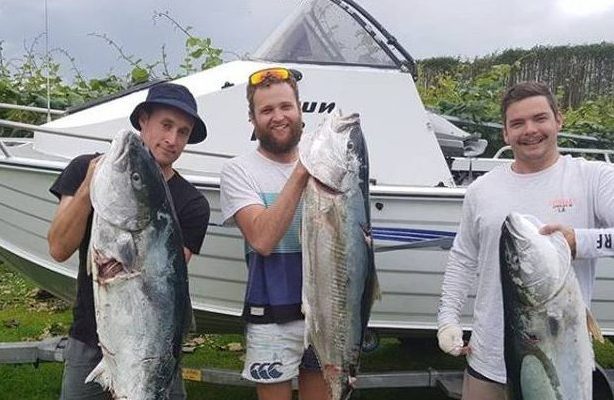 Kevin Lloyd and friends were fishing near the Cavalli Islands Dec 15 when a shark grabbed a freshly speared kingfish.
The group decided to head to a less sharky spot around 8 a.m.
After fishing for around 3 hours Lloyd shot a king fish and a shark "came out of nowhere" and grabbed onto his leg.
The 24-year-old drew out his knife to defend himself.
"I started stabbing it heaps with my knife and it didn't quite like that, so it turned around and bit my hand," he told the Herald.
"And then I was just trying to get my hand out of its mouth, so I gouged its eye with my left hand – this is all while my mate's holding on to the tail of the shark trying to pull it off me."
After releasing Lloyd's right hand, the estimated 2m (6.6ft) shark disappeared into the murky water.
The Kerikeri man and his fishing partner began the long 200-meter swim back to their boat.
Once they duo was back on board they headed to pick up another friend who was fishing a different spot.
The three fishers boated to Matauri Bay where emergency personal were waiting.
Lloyd was taken to the Bay of Islands Hospital where he received 10 stitches in his hand. His right leg had been injured in such a way, that doctors decided against stiches as they were concerned about infection.
"I was stunned. I couldn't believe it was happening. We dive with sharks all the time but this shark we hadn't seen," he said.
"Usually they just leave you alone. This is the first time I've genuinely been scared of a shark,"
The Navy sailor was also thankful that he had a friend nearby.
"It was pretty lucky because my mate was there. I think it would have been way worse if he wasn't," he said.
Mako sharks are common in the area and may have mistook Lloyd for food as there was blood and struggling fish in the water.
According to Clinton Duffy a Department of Conservation shark expert and marine biologist, the mako sharks can be aggressive and have been known to attack competitors.
Another spearfisher had a similar encounter Dec. 9 off Omaha's Ti Point.
Anton Oleinik was fishing north of Aukland when he spotted a kingfish.
The 50-year-old's shot connect to the fish and as he was reeling in his catch, he became entangled in the lines.
As he went to the surface to catch a breath and undo the lines, a 2.5m (8ft) bronze whaler grabbed his knee.
He was able to push the shark away and swim to a rock. Once he was out of the water he caught his breath and headed back to recover his gear.
The solo diver's think wetsuit prevented the shark from doing any damage and believes the shark probably mistook him for the freshly speared fish.
Once he was at home, he found he had recorded part of the incident with his GoPro camera.
He also had time to reflect on the event and recommends no one dive alone.
A third incident occurred at Baylys Beach, Near Dargaville Oct. 19.
Surfer Andrew Brough was bitten on the arm by a 3.2- to 3.5-meter (10 to 11ft) great white shark.
Thankfully, the 25-year-old's board prevented the shark from severing his limb.
While the rare encounter left Brough with a large half moon bite to his forearm, it did not break his love for the ocean.
"People get seriously hurt in car crashes and as soon as they are discharged from the hospital someone drives them home. It's no different to that," he told Tracking Sharks.
There have been a total of 101 shark attack bites (74 with injury, 24 of which are considered provoked*) publicly reported and verified in 2018. Five fatal**; 33 were reported in the U.S (including one fatal), with 13 occurring in Florida and 3 in Hawaii. Twenty-seven have been reported in Australia, one fatal. Eight unconfirmed bites, worldwide, not included in the total count.
All locations have been marked on the 2018 Shark Attack Map
*Provoked defined as spearfishing, feeding sharks, fishing, etc. (listed with green marker).
**Three possible scavenge