A surfer has been bitten by a shark near Byron Bay, Australia.
Jade Fitzpatrick was surfing with a mate off Suffolk Park and Broken Head around 7 a.m. October 24 when the incident occurred.
"I just felt something whack me at the back of my board and . . . I saw the tail come out and it went straight down," the 36-year-old told 7 News.
The shark, possibly a great white, came from underneath Fitzpatrick's board which took the brunt of the attack. Fitzpatrick was knocked into the water, but he was able to hop back onto his board and warn his friend about the shark. Then he noticed water moving behind him.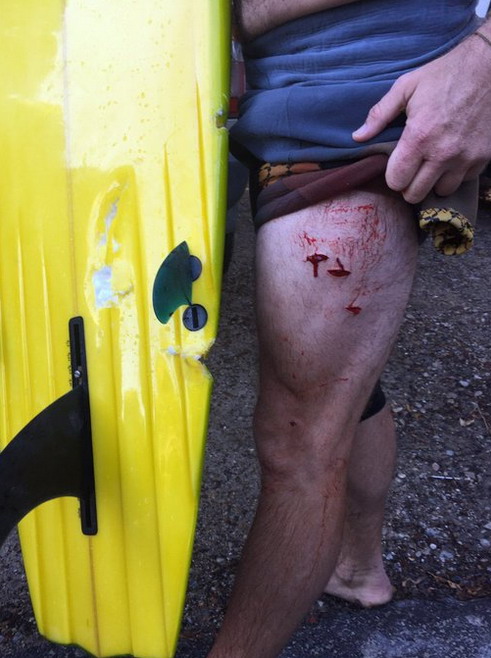 "I looked over my shoulder and I saw the water swirl, and it was only five meters (16 ft) away, and I thought he was turning to come back so I started paddling, and I was so scared he was going to get me."
He and his mate Joel started making their way back to shore.
"Halfway in I started to panic and I touched my leg and I felt it was slick from all the blood so I knew that I'd been bitten so I said 'dude, I just got bitten by a shark.'"
Once back on shore he was given first-aid for the superficial wounds on his left thigh.  He was then driven to the Byron Bay Hospital for treatment and was released three hours later.
This is the fourth shark attack bite on the East coast between Byron Bay and East Ballina this year.
There have been a total of 19 shark attack bites in Australia this year; 9 total in Queensland including one fatal incident.  Six were in New South Wales, 1 in South Australia and 3 in Western Australia, 2 of which were fatal.
There have been a total of 89 shark attack bites in 2016. Seven were fatal; 40 were reported in the US, with 28 occurring in Florida. Nineteen have occurred in Australia, 3 which were fatal.
All locations have been marked on the 2016 shark attack bites tracking map.