A teenager was bitten by a shark in Brevard County, Florida.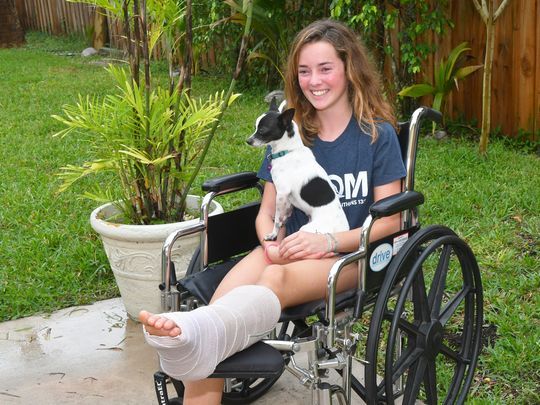 Kaia Anderson was surfing off Melborune Beach off of Highway A1A just before dark around 5 p.m.
The 14-year-old was just offshore when she felt a tug on her leg. She looked back to see the "arc" of the shark's jaw and its dorsal fin.
She told her friends that she had been bitten and the group caught a wave back to shore.
A fisherman carried the Hoover Middle School student to the local clubhouse and she was given first aid as she appeared to go into shock.
An ambulance arrived and transported her to the Sebastian River Medical Center, where she received over 100 stitches to sew up the damage to her left heel.
Doctors estimate that it will take around nine-months for the torn Achilles heel and three severed tenons to be completely healed.
This is the fourth shark attack bite reported in the area for 2017.
February 11 when a 22-year-old man was bitten while swimming. The unidentified man was treated on scene before being taken to the Holmes Regional Medical Center in Melbourne.
On April 10, Heather Orr was swimming with her boyfriend, when she dunked under a wave. The 21-year-old was bitten on the hand at around 4 p.m. She was treated at the Holmes Regional Medical center in Melbourne and was expected recover in a few weeks.
On the same day, a little further down the coast, a 10-year-old girl was bitten on the leg. The unidentified victim was airlifted to the Arnold Palmer Hospital for Children in Orlando.
There have been a total of 97* shark attack bites in 2017, 7 of which were fatal*; 47 were reported in the US, with 33 occurring in Florida** and two in Hawaii. Fifteen have been reported in Australia, one of which was fatal. Five unconfirmed worldwide and not included in the total count.
All locations have been marked on the 2017 Shark Attack Bites Tracking Map.
*Two may be scavenge. **One report may have been outside of Florida waters.