Two shark attacks have been reported in New South Wales and the Northern Territory, Australia.
The first bite occurred Nov. 16 at Seven Mile Beach in New South Wales, when a shark grabbed the lower leg of a man participating in surf lessons and wading in waist-deep water.
"He felt quite a significant force and lashing against his legs," NSW Ambulance Duty Operations Manager Inspector Jordan Emery said at a press conference.
The unidentified man was helped to shore by good Samaritans who applied a tourniquet and administered first aid.
The 24-year-old man, who had serious lacerations on his right leg and a puncture wound to his hand, was flown to St. George Hospital in Sydney in stable condition.
"I should stress that at no time was a shark sighted," Emery noted. "But certainly, based on the circumstances around the incident and the injuries that have been sustained, it would appear that this is a shark attack."
The department of Primary Industries later identified the shark involved as a wobbegong.
A second, more serious interaction occurred Nov. 18 in the Northern Territory.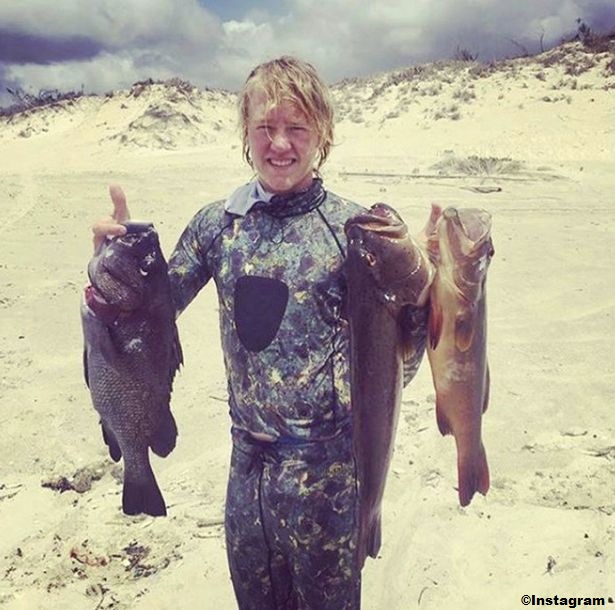 Sean Whitcombe, 17, was spearfishing with friends off the coast of Nhulunbuy and had just speared a mackerel when a mob of sharks noticed.
After the blacktip sharks snatched the fish from Whitcombe's spear they surrounded him.
"He said he saw about seven [sharks], but it was that quick that he didn't see the shark who bit him," Joseph Smith told ABC news.
Smith, who was part of the dive group, spotted Whitcombe, who is an avid fisherman, in a pool of blood on the surface of the water and raced to save him in an aluminum boat known as a tinny.
He quickly removed the teen's dive gear and hauled him out of the water.
"As soon as I got him onto the tinny, I raced to the big boat while driving and applying first aid," Smith said.
"It was confronting; major veins were severed … straight away I ripped my shirt off and started wrapping [it] around him.
"Once he was on the big boat, that's when I did sort of start to panic."
An Aboriginal nurse trainee took over first aid while Smith activated the boat's emergency location beacon.
Unfortunately, because the wrong coordinates were sent to emergency services, they could not find the boat for two hours.
"He said, Joe, am I going to die? Is me [sic] arm going to be chopped off?"
"If we hadn't had Chiko [the nurse trainee] with us, it would have been a lot worse … it was unbelievable," Smith said.
The teen was taken to a local hospital before being airlifted to the Royal Darwin Hospital.
Whitcombe was bitten on his left arm and right leg. Doctors were able to save his hand, but he will face many additional surgeries. Following surgery this morning, it will be another 48 hours before his injuries can be reassessed.
Mr. Whitcombe identified the two sharks involved as blacktips. In addition, he said the are had been used successfully fished by other spearos before he arrived.
Earlier this month a fatal shark attack was reported in Queensland.
Dr. Daniel Christidis was in Cid Harbour when he was bitten by a large tiger shark Nov. 5.
The same location was the site of two shark bites occurring a day apart from each other in September.
Ocean users are being warned not to swim in the Harbour.
There have been a total of 95 shark attack bites (69 with injury, 20 of which are considered provoked*) publicly reported and verified in 2018. Five fatal**; 33 were reported in the U.S (including one fatal), with 13 occurring in Florida and 3 in Hawaii. Twenty-five have been reported in Australia, one fatal. Eight unconfirmed bites, worldwide, not included in the total count.
All locations have been marked on the 2018 Shark Attack Tracking Map.
*Provoked defined as spearfishing, feeding sharks, fishing, etc. (listed with green marker).
**Three possible scavenge
Australia Breakdown:
Western Australia: 9 (4 no injury), Fatal: 0,  Unconfirmed: 2.
Northern Territory: 1 (1 provoked), Fatal: 0, Unconfirmed 0.
Queensland: 7 (3 provoked), Fatal: 1
New South Wales: 8 (2 no injury), Fatal: 0, Unconfirmed 1.
South Australia: 0, Fatal: 0, Unconfirmed 0.
Victoria: 2 (1 no injury), Fatal: 0, Unconfirmed 0.
Updated: December 14, 2018 Mr. Whitcombe told Tracking Sharks he was bitten by two blacktip sharks and the area had been successfully fished before his group arrived.