Updated: July 28, 2017
A group filmed the moment they drug a live shark behind a boat in Florida.
The video, which was shared on social media, shows a group of men dragging the shark at a high rate of speed.
The shark appeared to be opening its mouth as it was battered by waves.

While it is not uncommon for fishermen to kill sharks by dragging them behind boats, it is usually done at slow speeds.
The Florida Fish and Wildlife Conservation Commission (FWC) was alerted to the video on July 24 and have identified the anglers involved.
However, their names have not been released as the investigation is ongoing.
One issue the department faces is identifying the species of shark involved.
The shark, which looks to be alive as it was dragged, could be a spinner, long fin or short fin mako.
Only the long fin mako is prohibited from being landed by Florida law.
"It is too early to speculate as to what, if any, violations took place in this incident. However, the FWC would like to state that that the lack of respect shown in this video for our precious natural resources is disheartening and disturbing, and is not representative of conservation-minded anglers around the world," the FWC released in a statement.
If the shark was taken legally, there may still be a possibility of making a case for animal cruelty.
"The FWC takes this very seriously and is currently investigating this incident. The FWC has identified the individuals in the video, and would like to thank the public for their assistance. Per normal protocol, while this investigation is ongoing, the agency will not be confirming the identities of the individuals involved.
"Anyone with additional information about this incident is asked to contact the FWC's Wildlife Alert Hotline at 888-404-3922 or Tip@MyFWC.com. Individuals can remain anonymous," the agency said.
The English Encyclopedia, Everipedia, has identified the captain of the vessel as Michael Wenzel
UPDATE 12/13/17 Three men were charged with Two felony counts of Aggravated Animal Cruelty
Wenzel had several disturbing photos and videos posted on his now closed Instagram page.
One video shows a group of men pouring beer through the gills of a live hammerhead shark.

Occasionally the laws regarding shark fishing can be tough to enforce.
Earlier this year, fishermen landed and gaffed a shark that appeared to be a great white in California.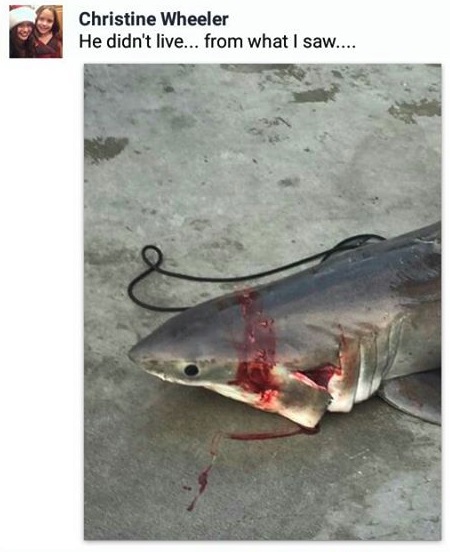 Anglers who catch great white sharks in California can be fined up to $10,000.
While the shark appeared to be a great white, the Orange County District Attorney's Office decided against filing charges.
They cited several reasons which included the inability to prove beyond a reasonable doubt that the shark was a great white.