A woman feeding sharks was bitten on her finger.
Melissa Brunning was visiting the remote Kimbolton region of Western Australia on a super yacht.
On day three of the two-week cruise, the 34-year-old structural draftsperson was the last of the group to step on the partially-submerged swim deck to feed tawny nurse sharks.
She was unaware that nurse sharks suck prey into their mouths as she held a bit of bait in front of the six-foot shark.
As the shark sucked in the bait, it also pulled in Brunning's right index finger, pulling her down onto the swim deck.
A man who was standing near quickly reached for her and helped her regain her footing.
"I think the shark was in shock as much as I was . . . the only way I can describe it is this immense pressure and it felt like it was shredding it off the bone," she told The West Australian. "I came up and I was like, 'I've lost my finger, my finger's gone'."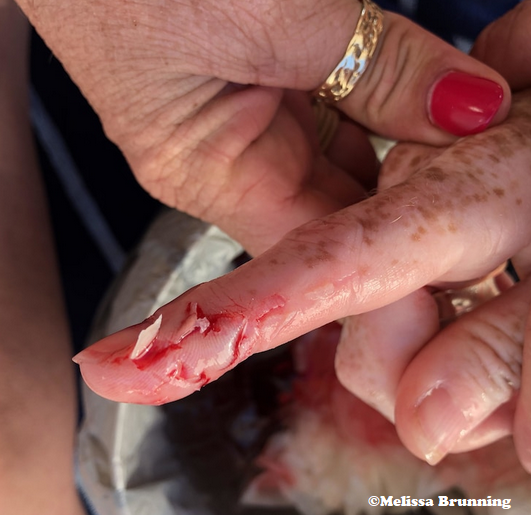 While Brunning's finger was still attached, there were several lacerations and she decided to see if it would heal on its own as she continued her vacation.
Once her trip was completed, she sought medical care for the wounded digit which was now infected.
Doctors attempted to flush out the infection and found that a ligament was torn, and the finger was fractured.
Brunning takes full responsibility for the bite.
"This is not a shark attack, this is just a blonde doing a stupid thing. I'm not a shark victim . . . I have full respect for sharks; I think they're incredible. I've always had the opinion that when you're in the water, they're top of the food chain, it's their domain.
Related: Husband films moment his new bride was bitten by a nurse shark in the Bahamas.
"We're not meant to be in the water, if we were we'd have gills," she added. She has taken one lesson to heart "respect marine life, and look at it in awe, but just leave them alone."
While nurse sharks are considered docile, they will bite when provoked.
There have been several cases where smaller nurse sharks have held on and required removal by emergency personnel.
Sairol Harun was fishing off the coast of Malaysia December 21, 2017 when a nurse shark grabbed him above the knee.
The 24-year-old had to call police who used special fishing equipment to remove the shark.
Ervin Maccarty was bitten on the stomach by a juvenile nurse shark in the Florida Keys on September 2, 2017. Video shows the shark refusing to release its bite until its gills were sliced open.
There have been a total of 47 shark attack bites (34 with injury, 7 of which are considered provoked*) publicly reported in 2018. One fatal**; 9 were reported in the U.S., with 3 occurring in Florida and 2 in Hawaii. Fifteen have been reported in Australia, none fatal.
All locations have been marked on the 2018 Shark Attack Bites Tracking Map.
Four unconfirmed bites, worldwide, not included in the total count.
*Provoked defined as spearfishing, feeding sharks, fishing, etc. (listed with green marker).
**One possible scavenge