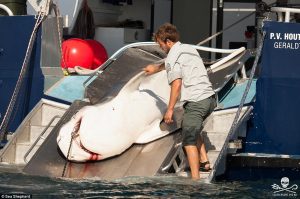 The Western Australia's Environmental Protection Authority recommended the state's shark culling program not be extended. They noted the impact of the baited drumlines on Great White populations has "a high degree of scientific uncertainty".
They originally estimated that around 25 great whites would be caught and killed on the 70 hooks that would be spread around popular beaches in Perth for the next three years. A three-month trial took place earlier this year where 172 sharks were caught. Twenty of the sharks were found dead on the lines, 14 of which were under the 10 ft requirement, fifty sharks over ten feet were shot and killed, even though they were not the targeted great whites. A total of 90 were found alive and under the 10 ft requirement, so they were tagged and released.
Paul Vogel, the EPA chairman, said "there remained too much uncertainty in the available information and evidence about the south-western white shark population, population trends and the bycatch from commercial fisheries" and "In view of these uncertainties, the EPA has adopted a cautious approach by recommending against the proposal".
The recommendation will be open to public appeal for two weeks; however it is doubtful anyone will dispute the recommendation to stop the cull. Over 25,000 people signed two petitions to end it with celebrities including Hannah Fraser, Richard Branson, Shark Warrior Lesley Rochat and Ricky Gervais voicing their disapproval. Federal environment minister, Greg Hunt will make the final call and he may take other matters into consideration, as the EPA recommendation is only an assessment based on the environmental impact.
For now though, it looks like sharks may face once less threat from man.