A woman has been bitten by a bull shark in Florida.
Krystal MaGee went sailing with her family on May 21st in Tampa Bay.
Once they were around three miles off shore, the group decided to take a swim in the roughly 19 foot deep water.
The group was unaware that the bay is a bull shark nursery.
MaGee was bitten once on the toes, but wasn't fully aware of what was happening. When the shark bit down a second time on her left foot, she realized she was in trouble.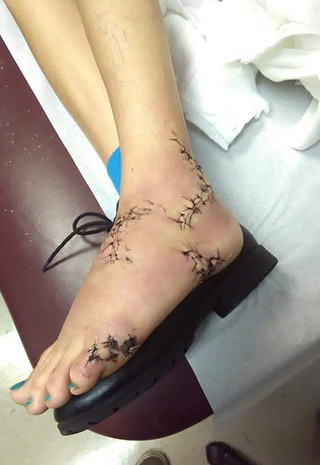 "I didn't think it was a shark at first and then I realized something bit me and I started screaming," MaGee told ABC Action News.
The 22-year-old said her brother-in-law put her on a buoy, while her sister jumped in the water to help her back on the boat. Family members noticed a four or five foot shadow just under the water.
As pressure was being applied to the wound, the U.S. Coast Guard was notified and dispatched a helicopter. However, Captain Chloe with Flagship Towing heard the call and was able to tow the group back to shore before the Coast Guard arrived.
She was taken to the Bayfront Hospital where she received 27 stitches.  She would have surgery three days later to repair torn tendons and muscles.
A gofundme page has been set up to help with MaGee's medical expenses
There have been a total of forty-one shark attacks bites in 2016. Five of which were fatal. Sixteen reported in the US, with eleven occurring in Florida. Ten have occurred in Australia, three of which were fatal.
All locations have been marked on the 2016 shark attack bites tracking map.