A teenage surfer was bitten August 19 by a shark off the coast of North Carolina.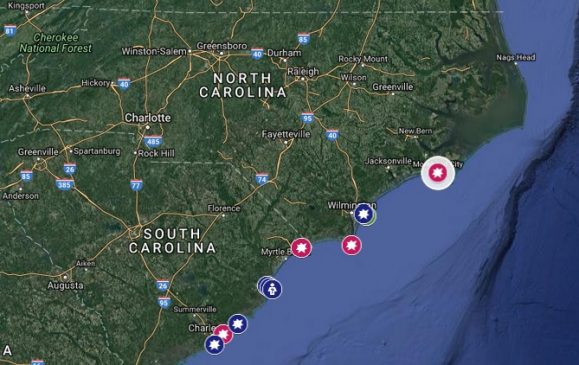 The unidentified 14-year-old boy was hitting the waves with other surfers off Atlantic Beach, Oceanana Pier Two in front of the Dunes Club before 1 p.m. when a shark bit the young man's right leg twice just below the knee.
"You could tell it was two separate bites," according to Atlantic Beach Fire Chief Adam W. Snyder. "It bit him, bit him and let go, and he [the surfer] just came in."
The young surfer was able to paddle around 70-feet back to shore and alert authorities.  He was treated for non-life-threatening injuries consisting of multiple puncture wounds.
Red warning flags were already flying, alerting people not to enter the extremely rough and murky water.
Other surfers continued to catch waves, even after the bite was reported.
"It is very unusual. We probably have a bite every four of five years probably," Synder said. "It's not like we were concerned about it happening again. It's definitely a case of mistaken identity, as you can imagine."
People were fishing from the pier and the activity can attract sharks, searching for an easy meal.
This is the second shark bite reported in North Carolina this month.
The first occurred August 5, off East Beach on Bald Island. A young, unidentified female swimmer was on a sandbar around 10:30 a.m. when she was bitten on her right calf.
In a press release, Village Manager Chris McCall said "an individual was bitten by something believed to be a juvenile shark, as assessed by first responders with the Village Department of Public Safety, given the type of wound sustained, which was non-life-threatening."
The girl, who was heard screaming, was rescued by her father who paddled her to shore using a surfboard.
She was taken to New Hanover Regional Medical Center in Wilmington, however, further information on the extent of her injuries is unavailable.
There have been a total of 63 shark attack bites (41 with injury, 12 of which are considered provoked*) publicly reported in 2018. Two fatal**; 23 were reported in the U.S., with 8 occurring in Florida and 2 in Hawaii. Fifteen have been reported in Australia, none fatal. Seven unconfirmed bites, worldwide, not included in the total count.
All locations have been marked on the 2018 Shark Attack Bites Tracking Map.
*Provoked defined as spearfishing, feeding sharks, fishing, etc. (listed with green marker).
**One possible scavenge