A swimmer has been bitten by a shark in Galveston, Texas.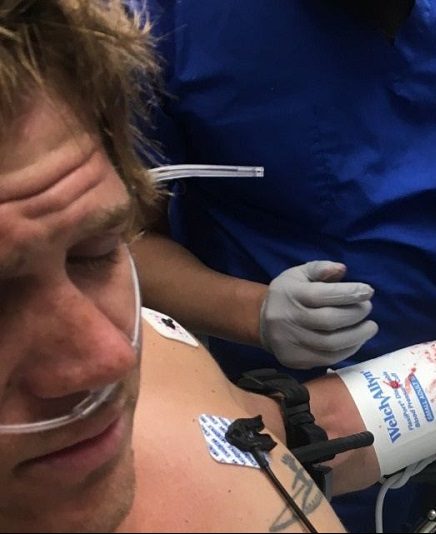 Blaine Shelton was off Crystal Beach around 10 a.m. when he was bitten on the leg.
The 42-year-old was around 200 yards off the beach and close to the second sandbar when he saw a shark's tale.
Around 5 seconds later the shark bumped him and half bite the plumbers leg just above the knee.
Shelton began frantically swimming towards the shore with the 5- to 6-foot bull shark following behind.
He was treated on scene by emergency personal before being transported to The University of Texas Medical Branch at Galveston.
Authorities from the Galveston County Sheriff's Office have warned beachgoers of the incident and advise staying out of the water.
The area appears to be a popular spot for shark fishing.
Earlier this year another hooked shark fought back and injured a deck hand.
Mike Ruthenbeck was working as a deckhand on a private fishing charter April 28, targeting redfish and sharks near jetties marking the entrance to Galveston Bay.
A member of the group hooked a sandbar shark and began reeling it in.
When the shark was brought to the side of the boat, Ruthenbeck, an avid outdoorsman, jumped into action. As he grabbed the leader line, the shark thrashed and bit his left forearm.
Recognizing the severity of his deckhand's wound, the charter captain sped back to shore.
Ruthenbeck was taken to hospital by ambulance where he had two hours of surgery to repair damage to the severed nerves, tendons and an artery.
There have been a total of 61 shark attack bites (48 with injury, 12 of which are considered provoked*) publicly reported in 2018. Two fatal**; 21 were reported in the U.S., with 8 occurring in Florida and 2 in Hawaii. Fifteen have been reported in Australia, none fatal. Six unconfirmed bites, worldwide, not included in the total count.
All locations have been marked on the 2018 Shark Attack Bites Tracking Map.
*Provoked defined as spearfishing, feeding sharks, fishing, etc. (listed with green marker).
**One possible scavenge
Updated August 11.