*Graphic* Florida Surfer suffers second shark bite in less than a year.
A shark bit a surfer on the foot June 10 in the Ponce Inlet, Florida.
Bryan Brock was north of the Jetty in waist-deep water around 10 a.m. when the shark bit his left foot and hand.
Mike Hotstetter saw Brock struggling around 10 feet away and quickly went into action.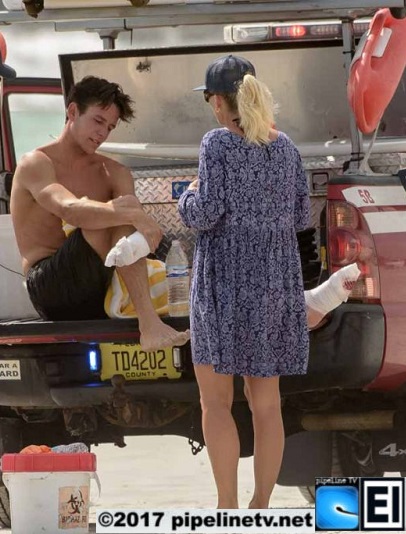 The Ex-lifeguard assisted Brock into shore and administered first aid.
According to Pipeline TV Volusia Country lifeguards, EMTs and the Ponce Inlet Police Department responded quickly to the incident.

Brock was taken to the hospital where he received 48 stitches for his foot and 4 stitches in his hand.
No one saw the shark that bit the 19-year-old, but according to the Volusia County Beach Safety Ocean Rescue, the wound was consistent with a shark bite.
Full moons tend to increase shark activity and one had occurred the night before Brock was bitten.
This is not the first time he has had an encounter with a shark.  Brock was surfing in New Smyrna Beach October 8, 2016 when he was bitten on the right knee.  According to witnesses the shark hit him so hard it wrapped its body around him.
"Even though I got bit 2 times in less than a year, it did not alter my love for sharks and how I will back in the water as soon as possible," Brock said adding, "I might be crazy, but I'd go crazy if I couldn't surf."
A GoFundMe page has been set up to help with Brock's medical bills.
There have been a total of 52* shark attack bites in 2017, 5 of which were fatal*; 23 were reported in the US, with 17 occurring in Florida** and one in Hawaii. Nine occurred in Australia, one of which was fatal and one with no injury.  Three unconfirmed worldwide and not included in the total count.
All locations have been marked on the 2017 Shark Attack Bites Tracking Map.
*Two may be scavenge    **One report may have been outside of Florida waters.