A California kayaker was knocked into the water by a great white that bit his kayak.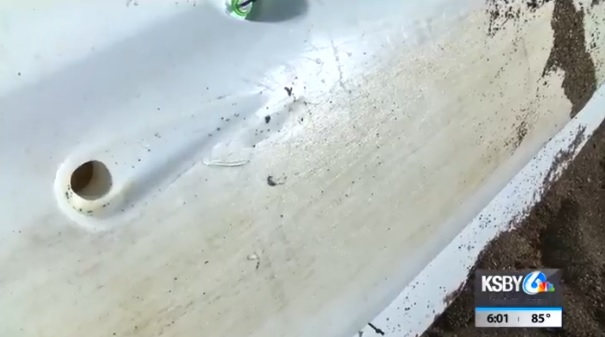 David Zamora and Jeremy Hinds were fishing about 2 miles off Leffingwell Landing in Cambria, California Oct. 25.
Around 8:30 a.m. an estimated 10-foot great white shark bit into the side of Zamora's kayak and flipped him into the water.
"I've never had anything scare me so bad," Zamora told KSBY.
He quickly swam back to his boat, shimmied on top and began calling for help.
"It just happened so quickly and my first instinct was to get back on. I don't want to leave no limbs hanging just in case he's coming for seconds, you know," Zamora said.
Hinds heard his fishing buddy's calls for help and quickly began processing the situation.
"I kind of panicked myself. I froze thinking, I'm next. I started paddling over and I'm just waiting to see what's happening. He was able to get on his kayak by about the time I came over there," Hinds said.
A nearby boater also heard the calls for help and collected the fishermen and alerted authorities.
The duo were taken back to the beach while authorities collected the damaged kayak.
A piece of shark's tooth found lodged in the Central Valley's man kayak was sent to a marine biologist for identification.
Not only did Zamora end up with a toothy souvenir, but he also brought back a big life lesson and recommends every boater carry a marine radio with them.
Earlier in October another kayaker was hit by a great white shark.
Danny McDaniel and Jon Chambers were filling down time between scuba dives Oct. 5 by kayaking to Ship Rock off Catalina Island.
Around 4:30 p.m. McDaniel felt something hit his kayak and looked to see a massive white shark mere inches away from the back of his kayak.
The shark let go after a few seconds and vanished into the deep.
After the two made it back to shore they measured the bite radius as 19 inches across and found two teeth that were 2 1/2 inches long.
There have been a total of 87 shark attack bites (78 with injury, 23 of which are considered provoked*) publicly reported and verified in 2019.
All locations have been marked on the 2019 Shark Attack Map.
Five fatal**; 48 were reported in the U.S. (including one fatal), with 26 occurring in Florida (5 provoked) 14 in Hawaii (3 no injury, 4 provoked, 1 fatal) and 3 in California (2 no injury). Fifteen have been reported in Australia, zero fatal. Four unconfirmed bites worldwide are not included in the total count.
*Provoked defined as spearfishing, feeding sharks, fishing, etc. (listed with green marker).
**Two possible scavenge