A nude bodysurfer was bitten by a shark in New South Wales, Australia October 20.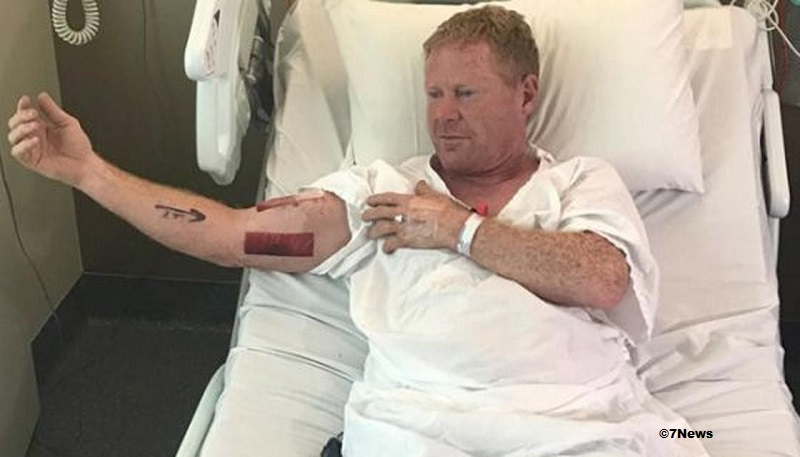 Paul Kenny was hitting the waves off the clothing optional Samurai Beach, which had just been reopened after a dead whale had washed ashore, in Port Stephens at 7 a.m.
The 51-year-old was around 50 meters (55 yards) off the beach when he decided to head back in.
"I went to catch the last wave back in, put my head down and headbutted the shark," He told the Sydney Morning Herald.
"I didn't know it was there and couldn't see it because it was churned up white water."
As soon as he rammed the shark, it latched onto his right bicep.
"So I started hitting it and punching it to get it off," the Terrigal Surf Life Saving Club volunteer said.
After the shark released its grip, Kenny grabbed his bleeding arm and fearfully started swimming back to shore.
"I didn't know where it was and if it was going to take my legs," he said
Several people witnessed the incident and met Kenny on the beach with bandages.
The Muswellbrook mine worker was taken to the John Hunter Hospital where he received 20 stitches but believes the wound could have been much worse. He said the shark's head was much larger than the wound and thinks the shark caught his arm with the end of its mouth.
Kenny holds no ill will towards the shark, which he thinks could have been a bronze whaler.
"I was in his world. He was just going about his business and I headbutted him so he retaliated."
There have been a total of 83 shark attack bites (59 with injury, 19 of which are considered provoked*) publicly reported and verified in 2018. Four fatal**; 30 were reported in the U.S. (including one fatal), with 11 occurring in Florida and 3 in Hawaii. Nineteen have been reported in Australia, none fatal. Eight unconfirmed bites, worldwide, not included in the total count.
All locations have been marked on the 2018 Shark Attack Map.
(*Eight with no injury **Three possible scavenge)
Australia Breakdown:
Western Australia: 8 (4 no injury), Fatal: 0, Unconfirmed: 2.
Northern Territory: 0, Fatal: 0, Unconfirmed 0.
Queensland: 5, (3 provoked) Fatal: 0
New South Wales: 6 (2 no injury), Fatal: 0, Unconfirmed 1.
South Australia: 0, Fatal: 0, Unconfirmed 0.
Victoria: 2 (1 no injury), Fatal: 0, Unconfirmed 0.