Surfer Ehren Chen was bitten by a shark at Hutchinson Island in Stuart, Florida.
The 26-year-old  saw the shark coming as he sat on his board. When he tried to stand up, the shark bit his hand.  The injury was minor.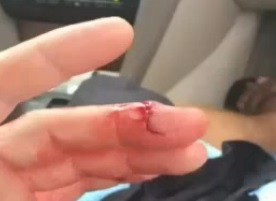 The blacktip shark was chasing mullet which were swarming in the water.
There have been two other shark bites in the same area this year. A 12-year-old was bitten in January and a bodyboarder in October.
All locations have been marked on the 2015 shark attack bites tracking map.
"