A shark bite has been reported in South Carolina on April 20.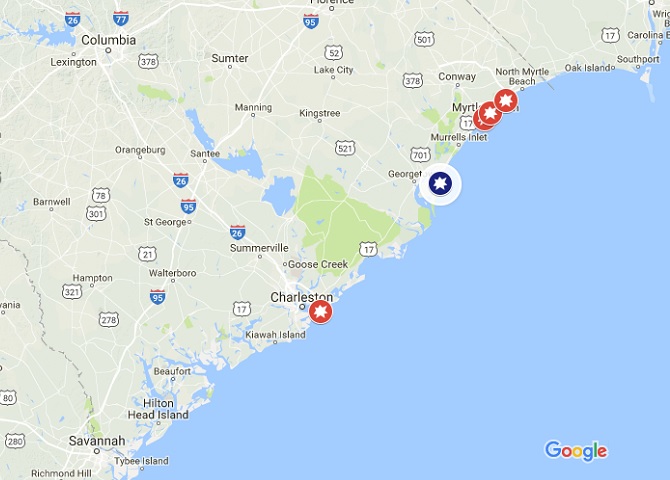 An unidentified man was on his morning swim at DeBordieu Beach when he felt something bite his left foot.
He was able to kick his foot to free and swim back to shore.
Midway Fire Rescue was notified of the incident at 8:50 a.m. and responded to the scene.
The man's non-life threatening injury was consistent with a shark bite and he was taken to Georgetown Memorial Hospital for treatment.
The injury consisted of puncture wounds and a 4-inch laceration to the foot.
This is the first reported shark attack bite in 2017 for South Carolina.
There were a total of four shark attack bites reported in the state in 2016.
The first occurred on June 21, 2016 when Jeff Schott was bitten while swimming at Myrtle Beach. A second bite, which also occurred at Myrtle Beach, was reported on July 15. The unidentified man was swimming in the ocean around 27th Avenue North when he was bitten on the foot.
A third bite was reported north of Myrtle Beach over the Labor Day weekend. Rylie Williams had been boogie boarding when the 12-year-old felt something bite her leg. She received 25 stitches to close 39 puncture wounds to her leg.
The fourth shark bite was reported off the coast of Sullivan's Island when a 35-year-old man was bitten in knee-deep water on June 27.
There have been a total of 32 shark attack bites in 2017, 3 of which were fatal*; 16 were reported in the US, with 14 occurring in Florida and one in Hawaii. Seven were reported in Australia, one of which was fatal.
All locations have been marked on the 2017 Shark Attack Bites Tracking Map.
*One fatal may be scavenge