A shark bit a surfer Nov. 12 in Cocoa Beach, Florida.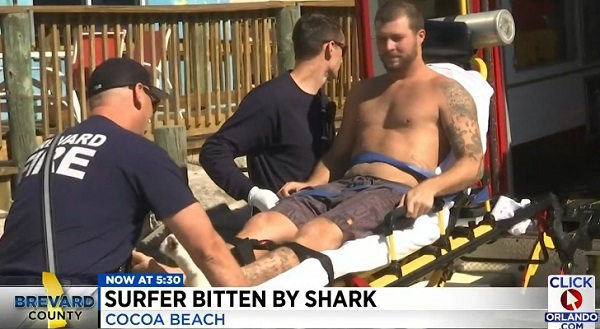 The surfer, who was only identified as Miller, was hitting the waves near the Pier when an estimated 4-foot long shark grabbed his foot.
Miller, 30, was able to paddle into shore where he was helped out of the water by another surfer.
Lifeguards treated his wound on scene around 12:30 p.m. before paramedics transported him to Cape Canaveral Hospital.
Doctors repaired damage to several toes and tendons in Miller's left foot before discharging him that night. The event won't keep him out of the water, and he plans to be surfing again after he Is healed.
Earlier this year, another surfer was bitten by a shark approximately 13 miles south of the Pier.
Logan Radd, 13, was off Satellite Beach when he was bitten by a shark Sept. 24. He was heading into shore around 4:30 p.m. when a shark grabbed his left foot.
His mother saw the estimated 2-foot-long blacktip shark bite her son. He was treated on scene before being taken to Holmes Regional Medical Center for treatment.
Warmer waters have led to a later shark migration which has contributed to several negative shark-human interactions.
Florida is known as the shark bite capital of the world. The state's east coast has good waves, warm murky waters and a healthy population of small sharks.
Most surfers accept the small chance that they may be bitten by a shark, and the majority of those who have been bitten continue to enjoy the waves.
There have been a total of 89 shark attack bites (80 with injury, 23 of which are considered provoked*) publicly reported and verified in 2019. Five fatal**
All locations have been marked on the 2019 Shark Attack Map.
49 were reported in the U.S. (including one fatal), with 27 occurring in Florida (5 provoked) 14 in Hawaii (3 no injury, 4 provoked, 1 fatal) and 3 in California (2 no injury). Fifteen have been reported in Australia, zero fatal. Four unconfirmed bites worldwide are not included in the total count.
*Provoked defined as spearfishing, feeding sharks, fishing, etc. (listed with green marker).
**Not including four unconfirmed/possible scavenge