A spearfisherman has been bitten by a bull shark in Florida.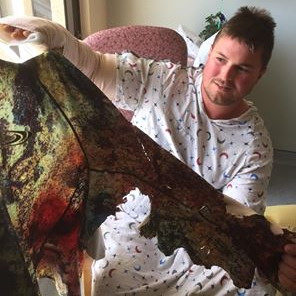 Kyle Senkowicz was freediving in 60 feet of water off Riviera Beach when a seven foot bull shark was drawn in by the speared fish.
He told ABC10 News "The shark came up on the side of me and I barely saw him out of my peripherals and grabbed on. He did one or two thrashes and let go and took off. He obviously wasn't trying to eat me."
The 25-year-old attempted to fight the shark and was bitten on the elbow, wrist and triceps.
Mr. Senkowicz was taken to the Sailfish Marina where emergency personal were waiting.
Kai Survance told the Palm Beach Post "He was lying on his back. He was conscious. There was blood all over his shoulder and the boat gunwale. He was pretty calm."
After receiving first aid he was transported to St. Mary's Medical Center in West Palm Beach for emergency surgery.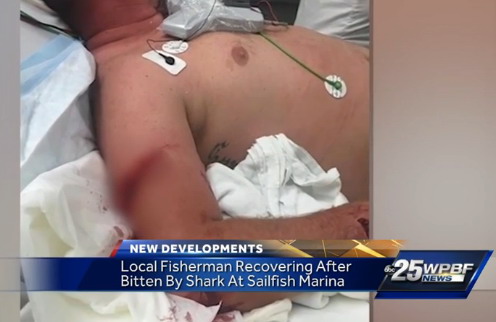 Senkowicz said "They reconnected seven tendons in my wrist or my hand, and one or two in my triceps, and then they put stitches and staples on the outside — 107 total between stitches and staples."
The experienced spearfisherman plans on getting back in the water and does not blame the shark. He said "You're in their territory. It's not like I was going swimming. You know, I was spear fishing. I was ringing a dead dinner bell for the sharks. It's not the shark's fault. Obviously, he didn't want to eat me. He took a bite and left."
The location has been marked on the 2016 shark attack bites tracking map.