A couple of spearfisherman had a close encounter with a shark in Western Australia.
Tim Van Beelen was fishing with The Horny Spearos boat off the coast of Coral Bay in the video posted January 23.
Van Beelen had just speared a fish and was reeling it in when a hungry shark showed up.
***Language Warning****
The shark took advantage of situation and started munching on the free meal.
The spear fisherman pulled on his line as the shark was eating the fish before quickly releasing it and distancing himself from the shark.
As he swims away, he continues to keep an eye on the shark as it consumes the fish.
When he is a good distance away from the shark, he proceeds to give it the middle finger, and signals for the pickup boat to retrieve him and his buddy from the water.
While the two wait for the boat, the shark comes in close to the diver's fins, possibly looking to see if there are any more fish.
Van Beelen kicks away from the shark as the support boats swings in and he hurriedly exits the water.
As he sits down in the boat he can be heard saying (with vulgarity) the shark was trying to eat him.
Van Beelen appears to be happy he is on board the boat.
This is not the first video posted where spearfishermen have seen hungry sharks.
Earlier this month Kerry Daniel posted a video showing the moment he was charged by a bull shark.
The 35-year-old managed to lift his speargun up as the bully charged.  The shark ended up ramming the speargun barrel directly into its own stomach.
While the subject on how to deal with sharks while spearfishing is debatable, one common answer is to simply keep an eye on the shark, exit the water as soon as possible and to sacrifice any fish that may have been speared.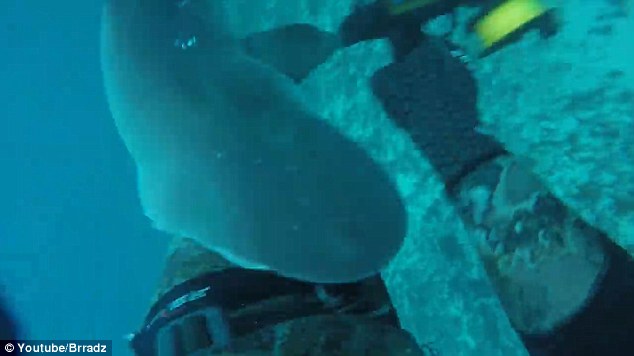 In June of 2016 Brad Vale never had a chance to drop a fish. The 19-year-old was bitten on the leg by a shark off Coral Bay. Luckily, the shark's teeth weren't able to penetrate Vale's wet suit and he wasn't injured.
All locations have been marked on the 2017 shark attack map.