A 12-foot great white shark is hanging around Panama City Beach, Fla.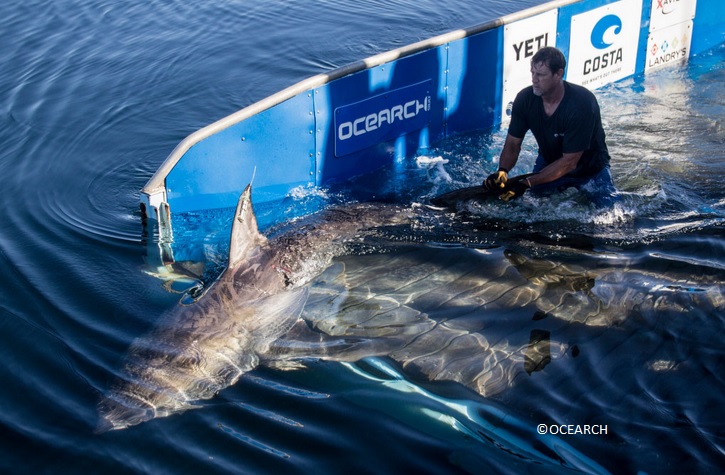 Miss Costa was originally tagged in 2016 off the coast of Nantucket, Mass., and she's been giving both scientists and the general public a look at her travels through her taggers OCEARCH's website.
The hefty 1,668 lb shark made her way into the gulf March 19 as she was tracked near Sarasota April 3, and then popped up on OCEARCH radar about 60 miles off the coast of Panama City April 7.
Unfortunately, we aren't really sure why she is visiting the area.
"It's been known for a long time that white sharks visit the Gulf of Mexico, but the majority of their activity there remains a mystery since data sets on their movements in the region are lacking compared to other areas in the Northwest Atlantic," OCEARCH said in a statement.
Thanks in part to OCEARCH for publicly sharing shark tracking movements, the data pool has been growing in recent years.
The group uses satellite tracking tags which are attached to the shark's dorsal fin. Once the fin breaks the surface and becomes dry for 15 seconds or more, a ping notification is sent to the group which publishes the information on the OCEARCH shark tracker.
RELATED: Video of an 8-foot mako shark spotted off Destin beach.
Interestingly enough, Miss Costa isn't the first great white shark to be tracked in the Florida Panhandle.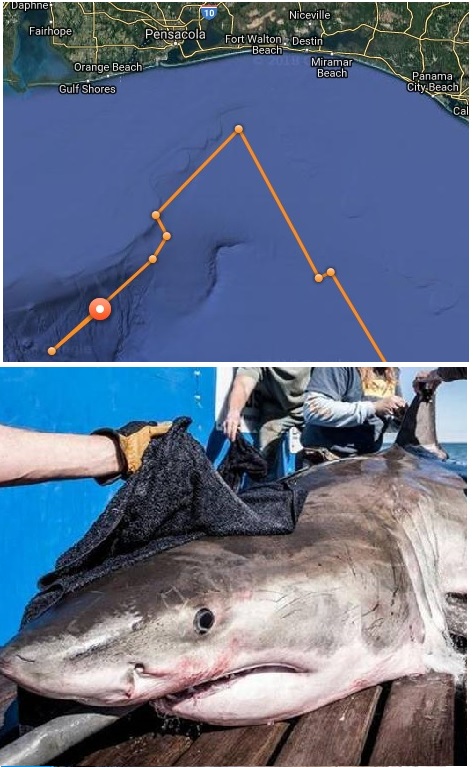 In April 2018, a male white shark named Hilton made a similar journey.  Hilton pinged near the coast between Destin, Fla., and Orange Beach, Ala.
In 2014, Katharine, 14-foot white shark, made her way toward the same area, but veered off before entering county waters.
While watching tracking movements of great whites is fascinating, recreational anglers have also made waves with white sharks.
On Feb. 26, Jeremy Utter, a member of the True Blue fishing team, threw his bonito bait off the Navarre Beach Fishing Pier, Navarre, Fla., and hooked a shark.
After a 30-minute fight with what he thought was a mako shark, he realized he had hooked a 10-foot white shark.
In 2015 a 9-foot white was reeled onto Panama City Beach by Derrick Keeny, and a white shark bit Captain Scott Fitzgerald's boat motor 8-miles off the coast.
Although the data pool is still being filled, it may be possible to guess what the sharks are doing. The Gulf area is an important spawning site for blue tuna and the sharks may simply be following a food source as it travels through the Gulf.
As more data is acquired, scientists can assemble better theories as to why the sharks may be traveling to the area.