A Queensland fisherman was bitten by a shark he was trying to reel in after catching it.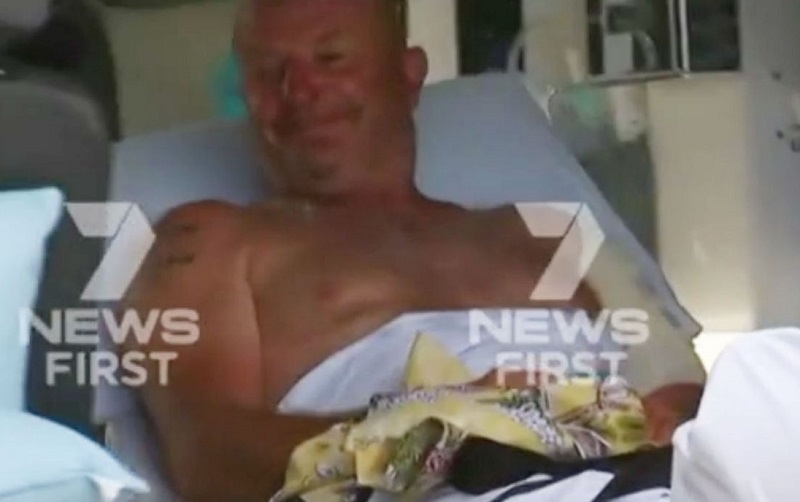 On October 8,  a 55-year-old hooked a large reef shark off Swains Reef, near the Yeppoon Coast.
The angler, called Mozzie by his friends, was with a charter group and in a small tender boat as he tried to reel in the shark.
As he attempted to haul the shark on board around 5 p.m., he slipped and went overboard with the shark in tow.
"Mozzie thought he could bloody wrangle it in the boat and he slipped out over the side and, yeah, as he went over the side the shark grabbed hold of the top of his arm," a witness told Seven News.
"Yeah [we] pulled him back into the boat, yeah, and then we come straight back to the main boat and they administered bloody first aid, yeah."
The group arrived at port around 6:15 a.m. the next morning and met paramedics.
Mozzie was taken to Rockhampton Hospital for the deep wound on his left arm.
"He came to us with a large bite to his shoulder, but was in good spirits," said Rockhampton Senior Operations Supervisor Brad Miers. "We had a good chat to the gentlemen and he stated that he caught a large reef shark and as he went to pull it on board it turned and bit him on the upper arm.
"Despite a large wound to his upper arm, he is in a remarkable condition . . . very joyful."
While this is considered a provoked bite, two unprovoked shark attacks occurred last month.
Hannah Papps was boating with her family off Cid Harbour September 20 in the Whitsunday Islands of Queensland, Australia when she went for a swim.
A shark grabbed the 12-year-old's upper leg near the groin around 1:30 p.m.
CQ Helicopter Rescue service was dispatched to collect Papps who was given three pints of blood during the flight to Mackay Base Hospital.
The hospital had another patient who was bitten by a shark the previous day.
Justine Barwick was swimming in Cid Harbour off Whitsunday Island's Sawmill Bay at around 5:00 p.m.  when a tiger shark grabbed her upper right leg.
RACQ CQ Helicopter Rescue dispatched a copter to recover the 46-year-old who was listed in critical condition.
There have been a total of 79 shark attack bites (57 with injury, 18 of which are considered provoked*) publicly reported and verified in 2018. Four fatal**; 29 were reported in the U.S (including one fatal), with 11 occurring in Florida and 3 in Hawaii. Eighteen have been reported in Australia, none fatal. Eight unconfirmed bites, worldwide, not included in the total count.
All locations have been marked on the 2018 Shark Attack Bites Tracking Map.
*Provoked defined as spearfishing, feeding sharks, fishing, etc. (listed with green marker).
**Three possible scavenge
Australia Breakdown:
Western Australia: 8 (4 no injury), Fatal: 0,  Unconfirmed: 2.
Northern Territory: 0, Fatal: 0, Unconfirmed 0.
Queensland: 5, (3 provoked) Fatal: 0
New South Wales: 5 (2 no injury), Fatal: 0, Unconfirmed 1.
South Australia: 0, Fatal: 0, Unconfirmed 0.
Victoria: 2 (1 no injury), Fatal: 0, Unconfirmed 0.