An ocean-themed birthday celebration went awry when the guest of honor was bitten by a shark.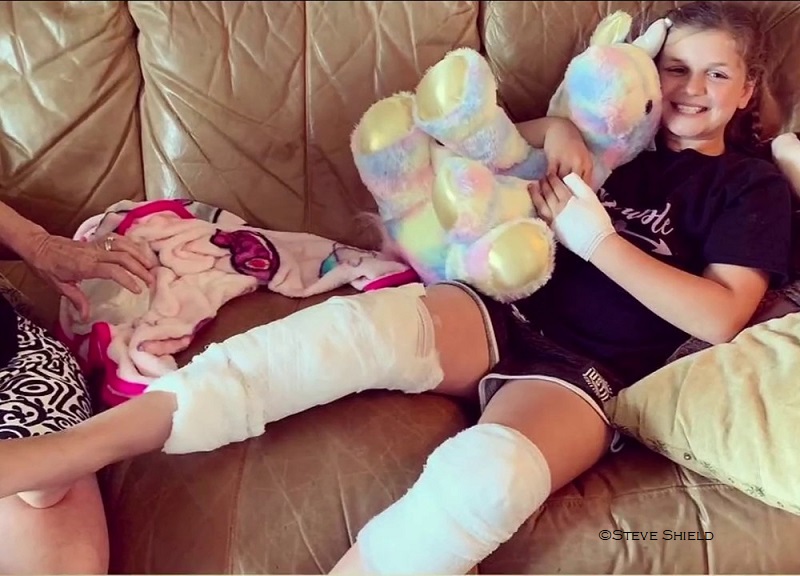 Peyton Shield, 10, was with her family at Four Winds Condominium complex in Crescent Beach, Fla., April 12 when they headed to the beach.
Peyton was boogieboarding near several other children about 5:45 p.m. in waist-deep water when a shark bit both her legs.  The young spring-breaker tried to push the shark away and was bitten on her left hand.
He father Steve heard her scream and initially thought she was stung by a jelly fish, but then saw blood.
"I saw she had blood coming out of her hand and then I started going into, 'What's going on?' "Mr. Shields told News Jax. "Then when she got out, I saw there was a lot more blood coming from the lower half."
He dialed 911 as he and Peyton's mother applied pressure to the girl's knees and hand.
Emergency personnel arrived on scene and transported Peyton to the hospital where she received 40 stitches.
She celebrated her birthday the following day and remains in high spirits, although she is upset that her water time has been cut short.
"She's mad because she can't go swimming and get in the water and all that stuff. She said the 'the shark's gone. I'm ready to get back in,'" her dad said. "We live in Florida. There're sharks. There're alligators. We're going to go swim in the lake. We're going to swim in the ocean. It is what it is."
This is the fourth shark bite reported in Florida this year.  The first occurred off Key Biscayne Feb. 2 when Dr. Alvaro Ordonez was bitten while spearfishing.
The second bite occurred March 12 off Stuart Beach when Kael Dewey was bitten on the foot while boogie boarding.
A third bite was reported 5 miles to the south on Jupiter Island.  Chris Bryan, 42, was surfing when a shark grabbed his foot, severing a tendon.
While Florida is known as the Shark Attack Capitol of the world, the majority of incidents are minor.  The state receives a huge number of visitors each year (111.8 million in 2018) and when compared with the small number of bites (13 publicly reported in 2018) the number is quite small.
There have been a total of 20 shark attack bites (18 with injury, 4 of which are considered provoked*) publicly reported and verified in 2019. One fatal**; nine were reported in the U.S, with 4 occurring in Florida and 4 in Hawaii. Five have been reported in Australia, zero fatal.
All locations have been marked on the 2019 Shark Attack Map.
Four unconfirmed bites, worldwide, not included in the total count. *Provoked defined as spearfishing, feeding sharks, fishing, etc.