Richard Pinder was bitten by a shark near the Grand Bahamas December 11.
The 26-year-old was reportedly diving for lobster 67 nautical miles southwest of Andros Island when the incident occurred.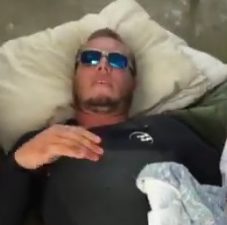 The Bahamian suffered serious injuries when he was bitten on his left hand, stomach, right calf and thigh. He suffered torn tendons in his hand and bone fractures.
The Coast Guard responded to a call from the vessel Water Spout and airlifted Pinder to Nassau for treatment.
Pinder lost most of his muscle, skin and three centimeters of tendon from his hand.
Teeth marks were found on the boats engine and it is believed the shark bit the motor first, then Pinder.
This is the third reported incident of 2015 in the Bahamas.
On July 4, Katie Hester was bitten while spearfishing and in January Lacey Webb Martin was bitten while snorkeling.
The approximate location has been marked on the 2015 Shark Attack Tracking map.