A teen who was diving for lobster was bitten by a shark off the coast of Encinitas, California.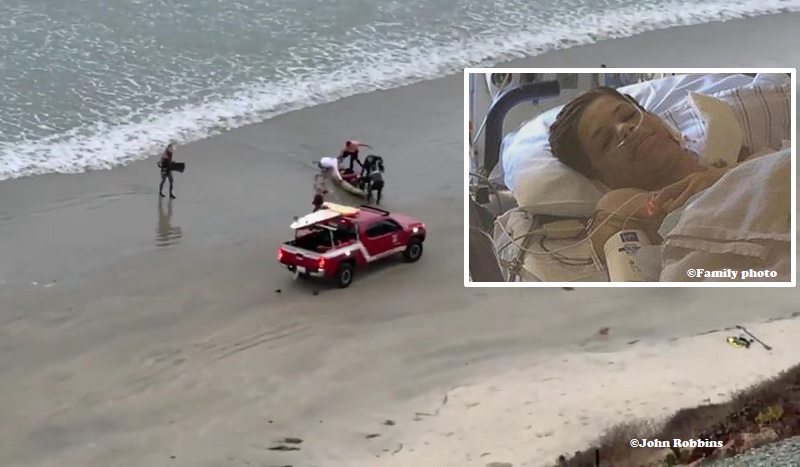 Keane Hayes and his church youth group were in the area for opening of lobster season at 6 a.m. September 29.
The 13-year-old was around 200 yards off Beacon's Beach in about nine feet of water when an estimated 10- to 11-foot shark, most likely a great white, grabbed his upper body.
Chad Hammel, who was lobstering with the group, heard Hayes' scream.
At first, he thought someone had captured a large lobster, but then heard the teen shout, "I got bit, help!"
An off-duty police officer from Oceanside, Hammel, and an off-duty California State Park lifeguard went to Hayes' aid and pulled him onto a kayak.
"His whole clavicle [shoulder and back area] was ripped open," Hammel told Fox5. "We told him he's going to be okay, he's going to be alright—we got help. I yelled at everyone to get out of the water, 'there's a shark in the water!'" The group began paddling to shore.
"Once we threw him up on the kayak and started heading in, that's when I looked back, and the shark was behind the kayak. He didn't want to give up yet."
Once back on shore, lifeguards treated the young victim before he was transported by helicopter to Rady Children's Hospital in San Diego in critical but stable condition.
"This patient received a very rapid and quick response by the trauma team," said Dr. Timothy Fairbanks, a surgeon at the hospital. "This is a rare injury. In the 10 years that I have been at this hospital, I have not seen an injury like this."
Keane Hayes is expected to make a full recovery. A GoFundMe page has been established to help with the young man's medical care.
Another serious shark attack occurred in off California's coast in 2017.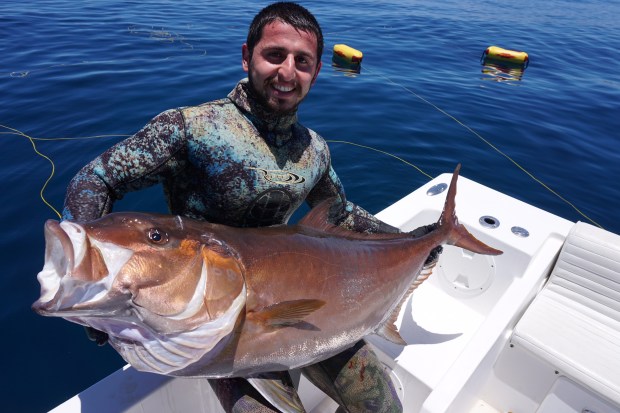 Grigor Azatian and his father Armen were diving off the coast of Pebble Beach November 24 when he was bitten by a great white shark.
The 25-year-old and his father had fished the area before, and Grigor, who had been spearing for 12-years and diving even longer, had just taken a couple of fish.
His father wasn't having much luck, but Grigor knew there were more fish in the area and suggested his father go back down.
A tad bit later, Grigor decided to scout for more fish and spotted a great white.
"I looked to my right and didn't see anything and then I looked to the left and that is when I saw the shark.  It was maybe 30 to 40 feet away," he told Tracking Sharks.
"When I first saw the shark, I got excited. Yes, I was also a bit on edge, but I thought to myself, finally, after years and years of diving off California's coast, I had finally seen one of the biggest and baddest predators of the ocean."
He lost sight of the shark as he began swimming to the surface to warn his father.
A few seconds after surfacing, the shark struck.
"It came from my right side, turned to the right and bit my right leg and, as it bit my right leg, turned me over onto my back. I was on my back while it was biting down and shaking me.
"My hands were swinging left and right. I must have hit it with my left hand somehow as I have a wound," he said.
He managed to climb back on the boat and his father joined him and attempted to stem the bleeding as they sped to shore.
The two made it back to shore where an off-duty sheriff's officer was waiting with a medical kit.
He was taken to the hospital and has made a full recovery.
There have been a total of 79 shark attack bites (56 with injury, 17 of which are considered provoked*) publicly reported and verified in 2018. Four fatal**; 30 were reported in the U.S (including one fatal), with 11 occurring in Florida and 3 in Hawaii. Seventeen have been reported in Australia, none fatal. Eight unconfirmed bites, worldwide, not included in the total count.
All locations have been marked on the 2018 Shark Attack Bites Tracking Map.
*Provoked defined as spearfishing, feeding sharks, fishing, etc. (listed with green marker).
**Two possible scavenge