A tourist has been killed by a shark in Egypt.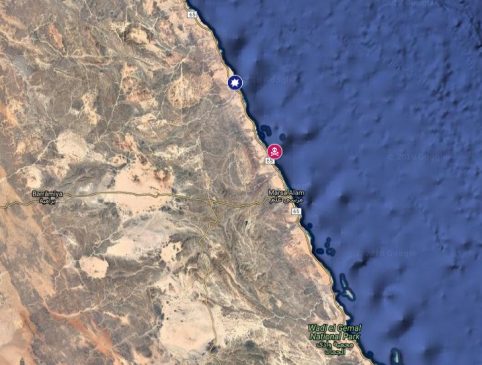 The body of a man identified as Petr Blesk was recovered August 3 on Marsa Alam Beach.
City council chairman General Atef Wagdy told international news agency AFP the 42-year-old died as "a result of an attack by a shark."
Around 3 p.m. the auto mechanic and his family went to a pier leading to deep water from Calimera Habiba beach.
"We were all going to bathe. I waited with the little one (their 7-year-old daughter) when the lifeguard brought us a life jacket, otherwise we would already be in the water," his wife Pani Andrea told  iDNES News.
"Peter jumped from the pier to the water and [swam] only a short distance away. Suddenly he turned and began to swim furiously back. He kept turning and desperately trying to get to the pier.
"I saw a great shadow in the water, and my husband disappeared under the water. Suddenly, the tail of the shark was flying over the surface of the shark and a huge amount of blood rose," she said, Adding that he called her name several time.
The remains of the Blesk, who was vacationing with his wife and two children, were taken to the hospital while Egypt's health ministry makes transportation arrangements with the Czech consulate.
The shark involved is thought to have been an oceanic whitetip.
Marsa Alam is located on the western shore of the Red Sea in southeastern Egypt.
Another tourist was bitten nearly one year to the day in the same general area, a popular coral diving destination.
Christine Schachinger, who was visiting from Austria, was snorkeling with a group in the Red Sea when a whitetip shark was spotted, and an alarm sounded.
As the 20-year-old was exiting the water August 5, 2017, the shark bit her right side just above the hip.
It is possible the shark, normally found farther offshore, was drawn to the area by ships discarding trash into the sea.
The Red Sea is a relatively quiet area for reported shark attacks bites.
The last fatal shark attack occurred in March of 2015.
A German man was snorkeling off Al-Qusair near Coraya Beach, when a shark grabbed his leg.
The shark, thought to be a mako, pulled the man under water and dragged him around 100 yards before severing his leg at the knee.
There have been a total of 59 shark attack bites (46 with injury, 12 of which are considered provoked*) publicly reported in 2018. Two fatal**; 19 were reported in the U.S., with 8 occurring in Florida and 2 in Hawaii. Fifteen have been reported in Australia, none fatal. Six unconfirmed bites, worldwide, not included in the total count.
All locations have been marked on the 2018 Shark Attack Bites Tracking Map.
*Provoked defined as spearfishing, feeding sharks, fishing, etc. (listed with green marker).
**One possible scavenge
Updated August 9, 2018.