A woman was bitten by a shark off Isle of Palms, South Carolina Sept. 15.
Erica Hedrick, 22, was vacationing cousin in the area she has regularly visited the past 10 years.
She and her cousin Katie Isbell were swimming in water over their heads and drifting away from the pier when something big came by.
"Did you just see that?" Isbell recounted to The Post and Courier,explaining how something big bumped her arm "like a board hit; that's the only way I can describe it."
Then Hedrick felt a rush of pain and screamed "My foot's in something's mouth!'"
The cousins started yelling for help as they headed back to shore.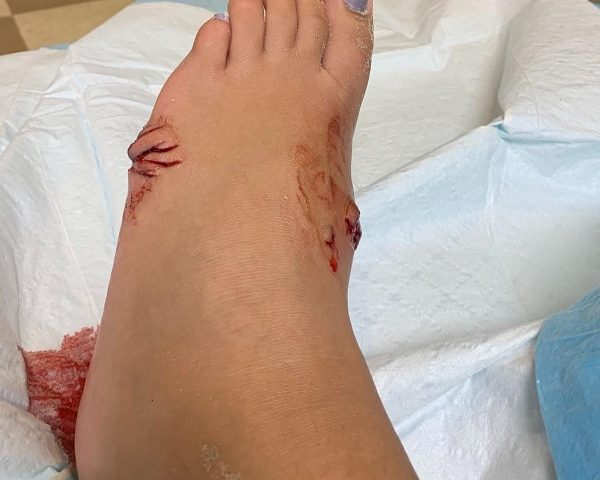 Emergency personnel took Hedrick to Roper St. Francis Mount Pleasant Hospital where x-rays showed a tooth fragment embedded in her foot. Doctors sutured 29 lacerations on both sides of her left foot. She is expected to make a full recovery.
Another shark bite was reported in the area last year.
Trey de Boer, 10, was visiting the Isle of Palms near Palm Boulevard and 30th Avenue May 21, 2018.
He was boogieboarding and was in shallow water around 4:20 p.m. when a shark bit his ankle.
He was taken to the Medical University South Carolina where he received stitches and was expected to make a full recovery.
It is not unusual to see sharks in South Carolina. The warm water has a vast variety of marine life and negative shark encounters are fairly rare in the state.
There have been a total of 72 shark attack bites (67 with injury, 19 of which are considered provoked*) publicly reported and verified in 2019.
All locations have been marked on the 2019 Shark Attack Map.
Five fatal**; 41 were reported in the U.S. (including one fatal), with 22 occurring in Florida (4 provoked) 12 in Hawaii (2 no injury, 4 provoked, 1 fatal) and 2 in California (1 no injury). Ten have been reported in Australia, zero fatal. Four unconfirmed bites, worldwide, not included in the total count.
*Provoked defined as spearfishing, feeding sharks, fishing, etc. (listed with green marker).
**One possible scavenge