A shark bite has been reported at Pyramids Beach in Western Australia.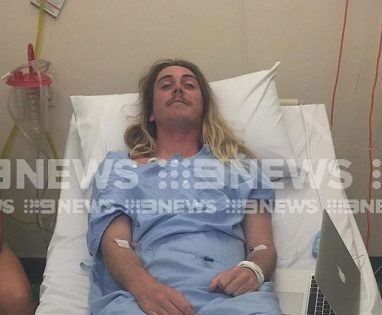 Noah Symmans was hitting the waves Nov. 11, at the Mandurah surf break.
Around 8:40 a.m., Noah sat on his bodyboard waiting for waves. As his legs and fins dangled in the water, he began to feel what he described as 'super sharky vibes.'
"I was surfing with another mate at a known break in Mandurah and it was fairly eerie vibes, a couple salmon were about, and it was overcast," he told the West Australian
"We were mid conversation waiting in the line-up when I felt something grab my left leg and try and pull me under, so with my other leg I stomped the shark until it released me, and we gunned it for the rocks."
Symmans and his friend scurried onto the rocks where first responders were alerted to the incident by one of the championship bodyboarder's friends, and rushed to his aid.
He was carried to a first aid room at Port Bouvard Surf Club.
"I was treated by life guards and paramedics and flown by chopper to Royal Perth Hospital where I will undergo surgery tomorrow," he said.
"I'm just happy to be in one piece and thankful for all the help from the life guards and paramedics and the love from all my family and friends."
The 20-year-old had four deep puncture wounds on his lower left calf and is expected to make a full recovery.
Authorities are authorizing more drones and Jet Ski patrols for surfing competitions. There are also plans to make a swimming enclosure, subsides, shark shield devices and install SMART drumlines across the shores of Gracetown.
A community meeting has been scheduled for Saturday for residents to voice concerns.
Earlier this year a 14-year-old spearfisher had an encounter with an overcurious shark about a mile north of Pyramids Beach.
Lucas Martin speared a cod around 5:30 p.m. off Avalon Point Feb 2. The teenager then spotted a black shadow coming towards him.
He was able to use his pole spear to poke the grey nurse shark, also known as a sand tiger shark, in its snout. It quickly swam away from the fisherman and towards his discarded fish.
Martin swam back to shore and alerted others of the incident.
There have been a total of 92 shark attack bites (67 with injury, 19 of which are considered provoked*) publicly reported and verified in 2018. Five fatal**; 33 were reported in the U.S (including one fatal), with 13 occurring in Florida and 3 in Hawaii. Twenty-two have been reported in Australia, one fatal. Eight unconfirmed bites, worldwide, not included in the total count.
All locations have been marked on the 2018 Shark Attack Bites Tracking Map.
*Provoked defined as spearfishing, feeding sharks, fishing, etc. (listed with green marker).
**Three possible scavenge