An aquarium diver has been bitten on the head by a shark at a theme park in China.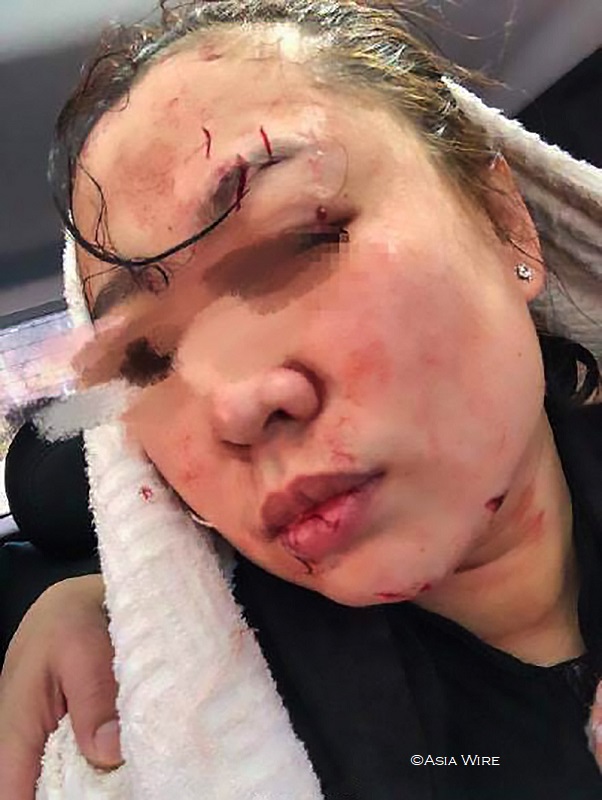 The tale begins with a woman, only identified as Nana, who began diving classes at Dalian Laohutan Ocean Park aquarium in Liaoning province April 5.
Nana was learning to scuba dive at the well-known Hong Kong tourist attraction, with a class taking place in a tank which held sand tiger sharks.
At some point during the class, a shark bit the woman's head once before releasing her. The young woman was taken to the hospital where she received a total of 70 stitches for multiple wounds across her head.
Photos of her face show lacerations to her right eye and forehead, the bottom of her chin and the back of her skull.
The Daily Mail reports a message addressed to Nana from the dive club manager was posted with information that her medical bills and reconstructive surgery would be covered by the club.
Sand tigers are considered to be docile sharks; however, they will bite when provoked.
Another aquarium experienced this first hand in 2012.
The unidentified diver was assisting in administering a shot to a sand tiger when he was bitten on the arm. Video of the incident shows the strike the aftermath as the man exits the water with his damaged appendage.
Just last year a swimmer was bitten by a sand tiger off the coast of New York.
Matthew Donaldson was bogieboarding July 18 at Atlantique Beach when he was bitten on the leg. The 13-year-old had several puncture wounds to his leg. Doctors found a piece of shark's tooth in his leg which was analyzed by the International Shark Attack File and was found to be from a sand tiger shark.
There have been a total of 18 shark attack bites (16 with injury, 4 of which are considered provoked*) publicly reported and verified in 2019. One fatal**; seven were reported in the U.S (including zero fatal), with 3 occurring in Florida and 3 in Hawaii. Five have been reported in Australia, zero fatal. Four unconfirmed bites, worldwide, not included in the total count.
All locations have been marked on the 2019 Shark Attack Tracking Map.
*Provoked defined as spearfishing, feeding sharks, fishing, etc. (listed with green marker).
**Zero possible scavenge