A Florida surfer who landed on a shark in Volusia County was injured in a provoked attack, and a vacationing teen was bitten five days earlier in Fort Lauderdale.
Dr. Donald Walsh, 40, was surfing off New Smyrna Beach Aug. 27. He told Beach Safety he caught "air on a wave" in waist-deep water around 11:55 a.m., falling on top of what he estimated as a 6.5-foot long shark.
The chiropractor sustained lacerations to his left hand and calf. He was treated on scene by Ocean Rescue, but declined medical transportation for the non-life threatening injuries.
This is the eleventh shark bite reported in the area this year and the fifth this month.
Maggie Crum, 9, was bitten by a shark while playing off New Smyrna Beach Aug. 16. She was in knee-deep water when a shark grabbed her right calf around 11 a.m. On Aug. 4, a 68-year-old Tennessee man was bitten on the foot while wading.
Two more shark bites were reported Aug. 3. Emily Comfort, 20, was surfing when a shark grabbed her left wrist and hand around 3:30 p.m.  As she was being treated by medics, 21-year-old Riley Petrovich walked up to report a shark had bitten his right foot as he paddled into the jetty.
Six other shark bites were reported in the area this year. The rough water is great for surfing and for hungry sharks chasing bait fish that feed in the nutrient rich water. 
Meanwhile, in Fort Lauderdale a Canadian vacationer was bitten by a shark Aug. 22.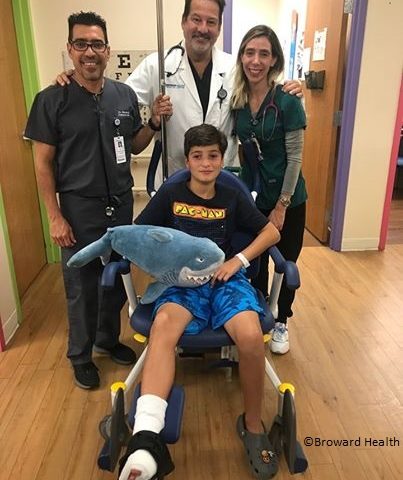 Christian Mariani was in knee-deep water when he felt something bite his foot around 9 a.m.
"I felt it clamp down and then it let go," he said during a press conference at the Salah Foundation Children's hospital. "It was really scary because I knew something bit me. It didn't really feel like it was pulling . . . I felt it clamp down, and then it let go, and then I ran out."
A group of lifeguards who were training nearby heard the boy screaming and came to offer first aid. He was transported to the hospital where he received 17 stitches. He is expected to make a full recovery.
The Hamilton, Ontario youngster isn't going to let the bite keep him out of the water.
"I feel more lucky than unlucky. I know it's a very low chance to get bit by a shark. But to be in the condition I am right now, that is also very lucky," he said.
As of Aug. 27, 2019, there have been a total of 65 shark attack bites (61 with injury, 15 of which are considered provoked*) publicly reported and verified in 2019.
All locations have been marked on the 2019 Shark Attack Map.
Five fatal**; 36 were reported in the U.S. (including one fatal), with 21 occurring in Florida (4 provoked), 9 in Hawaii (1 provoked,1 fatal, 1 no injury) and 2 in California (1 no injury). Ten have been reported in Australia, zero fatal. Four unconfirmed bites, worldwide, not included in the total count.
*Provoked defined as spearfishing, feeding sharks, fishing, etc.
**not including one possible scavenge