An Australian surfer had a close encounter with a shark off Bribie Island, Queensland.
Riley Brown,17, was enjoying the waves with friends at Woorim Oct 17.
The local carpenter was sitting on his board waiting for a wave Thursday afternoon when he was knocked into the water.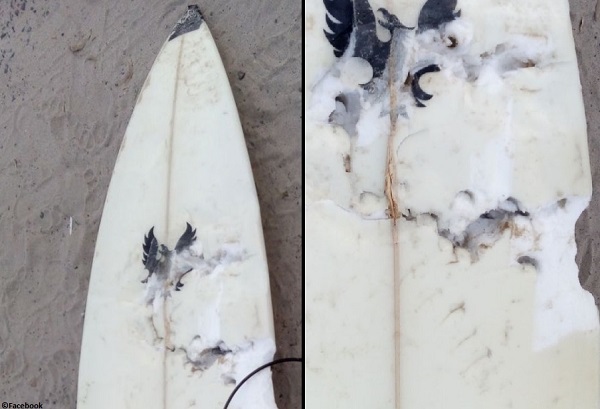 "Just sitting waiting for a set and something come up underneath me and smoked the bottom of my board," Brown told 7NEWS. "I got flipped off and got back on the board and told me mate who was like 20 meters (65 ft) away."
He was able to collect his board and paddle back to shore.
Brown said his friends didn't believe he had encountered a shark until they saw the 15-inch (40cm) bite mark left on the surfboard.
A friend posted the incident details on a Bribie Island Community page to warn other surfers of the incident.
Brown isn't going to be deterred by the incident and plans on getting back in the water.
Earlier this month another surfer was attacked by a great white shark.
Mike Bruton, 29, was waiting on his last wave of the day near Seal Rocks Oct. 5.
While he was waiting, a large white shark hit him from underneath and broke off a part of his shortboard and severed the leash.
Bruton saw the shark as he was flying through the air and said the shark was so thick, that a person couldn't wrap their arms around it.
He was able to paddle back to shore even though he felt like he had been hit by a bus. He came away unscathed but the estimated 11 1/2-foot shark left him with a sore abdomen and ribs.
There have been a total of 83 shark attack bites (74 with injury, 22 of which are considered provoked*) publicly reported and verified in 2019.
All locations have been marked on the 2019 Shark Attack Map.
Five fatal**; 47 were reported in the U.S. (including one fatal), with 25 occurring in Florida (4 provoked) 14 in Hawaii (3 no injury, 4 provoked, 1 fatal) and 3 in California (2 no injury). Fourteen have been reported in Australia, zero fatal. Four unconfirmed bites worldwide are not included in the total count.
*Provoked defined as spearfishing, feeding sharks, fishing, etc. (listed with green marker).
**Two possible scavenge
Shark attacks by location in Australia:
Western Australia: 2 (1 no injury, 0 provoked), Fatal: 0, Unconfirmed: 0.
Northern Territory: 2 (0 no injury, 2 provoked), Fatal: 0, Unconfirmed 0.
Queensland: 4 (0 no injury, 0 provoked), Fatal: 0, Unconfirmed 2.
New South Wales: 6 (3 no injury, 1 provoked), Fatal: 0, Unconfirmed 0.
South Australia: 0 (0 no injury, 0 provoked), Fatal: 0, Unconfirmed 0.
Victoria: 0 (0 no injury, 0 provoked)), Fatal: 0, Unconfirmed 0.